Brys Estate Blog
Welcome to the our blog, here is where we will be highlighting events, news, and stories from around the vineyard & winery!

Traverse City, MI – Michigan's premier boutique winery, Brys Estate Vineyard & Winery, is excited to announce their 2017 Cabernet Franc Reserve and 2018 Riesling Reserve won major awards at the 20th annual Jefferson Cup Invitational Wine Competition. Brys Estate's Cabernet Franc Reserve was awarded a Jefferson Cup, and Riesling Reserve received nomination for a Jefferson Cup and won a Double Gold Medal.
Named the "Olympics" of wine competition by many, this invitational is unique in that is the only competition that honors the best of the best among wineries from all of America's wine regions. Rather than being open to every winery willing to submit an entrance fee, the organization select wines culled from tastings and competitions in America through 2019. This year's competition included 750 wines from 27 states, and at the end of the second day of tasting judges found 23 being worthy of Double Gold Medals, and just 36 wines were awarded the Jefferson Cup by the 20 judges.
Other Brys wines awarded in the competition were Artisan Cabernet Franc, Merlot, Artisan Merlot, Pinot Blanc, Dry Riesling, Gewürztraminer, Signature Rosé (Silver); Pinot Noir, Artisan Pinot Noir, Pinot Grigio, and Artisan Dry Riesling (Bronze).
"We are very proud to receive a Jefferson Cup for our Cabernet Franc. My goal as a winemaker has always been to challenge myself. Producing a world class Cabernet Franc in Northern Michigan takes a lot of discipline and dedication. At Brys Estate, we focus on the land, agriculture and hard work."- Brys Estate winemaker, Coenraad Stassen.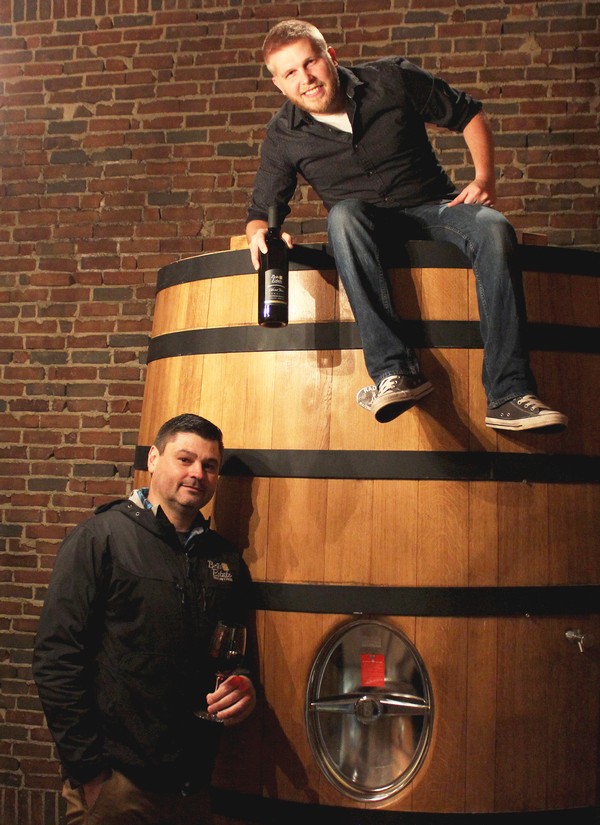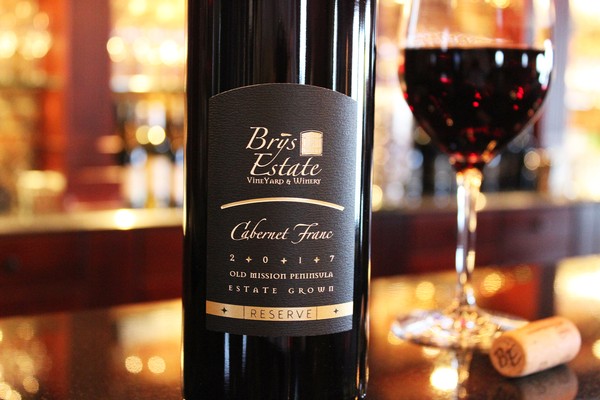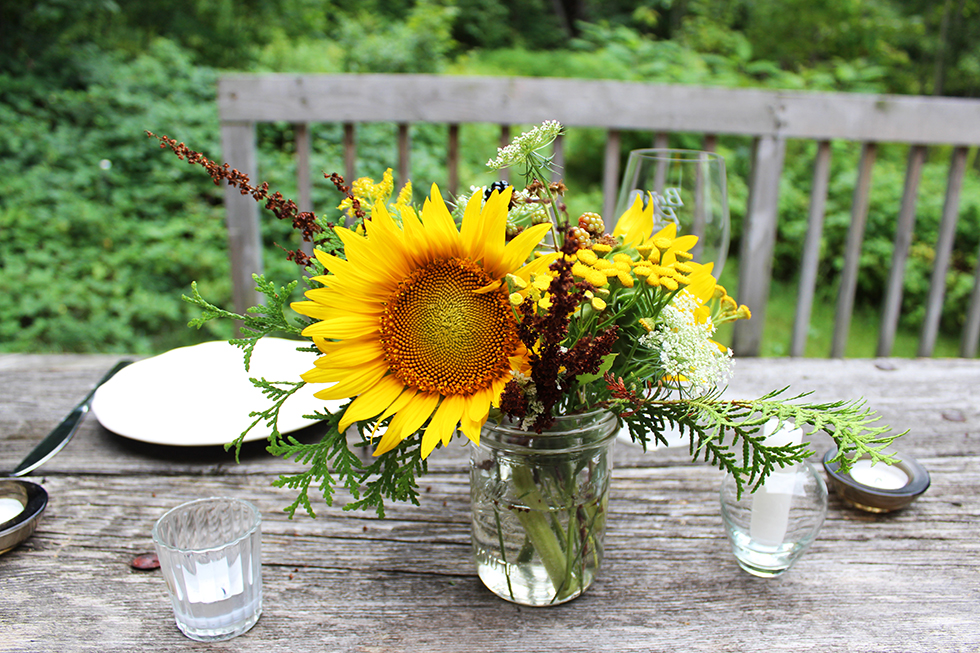 As summer begins to slowly draw to a close we're encouraging you to get outside & enjoy the bounty of the season, including fresh fruits & vegetables, sunflowers, & local wine!
We rounded up 4 recipes from #PatricksPairings that make for a delicious late summer meal! Of course, we've also included the wines that pair best with each! Enjoy!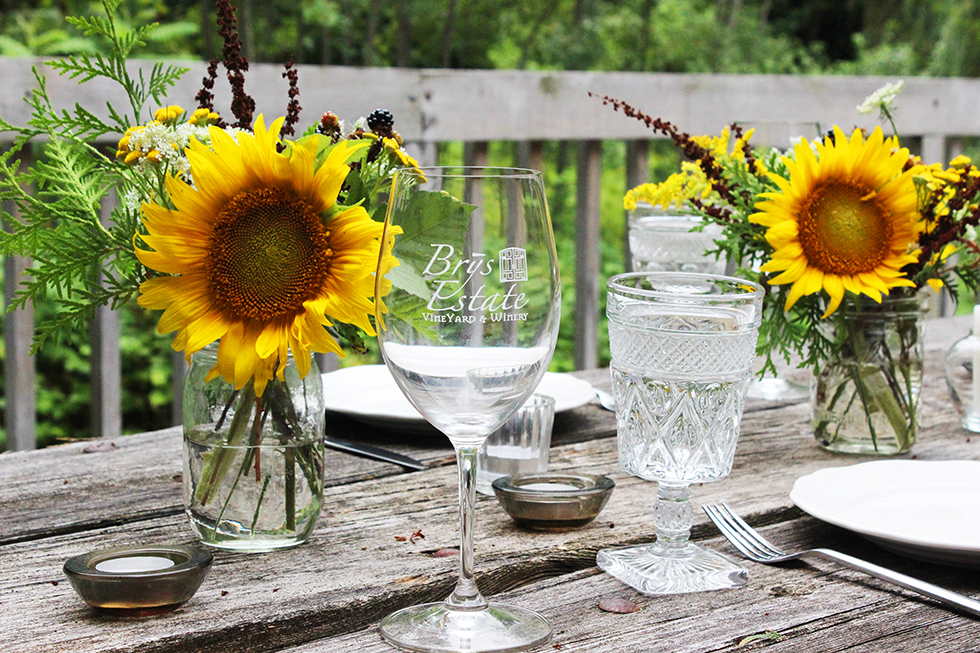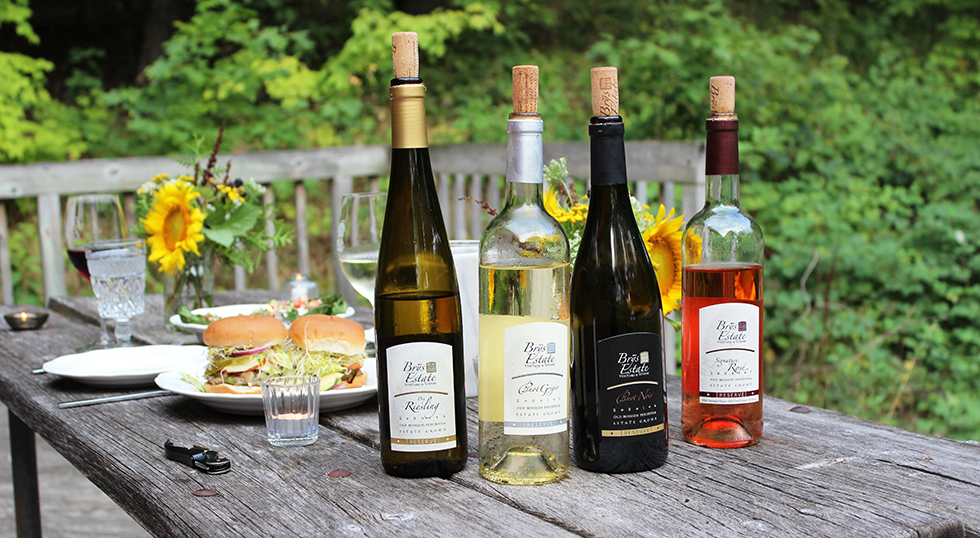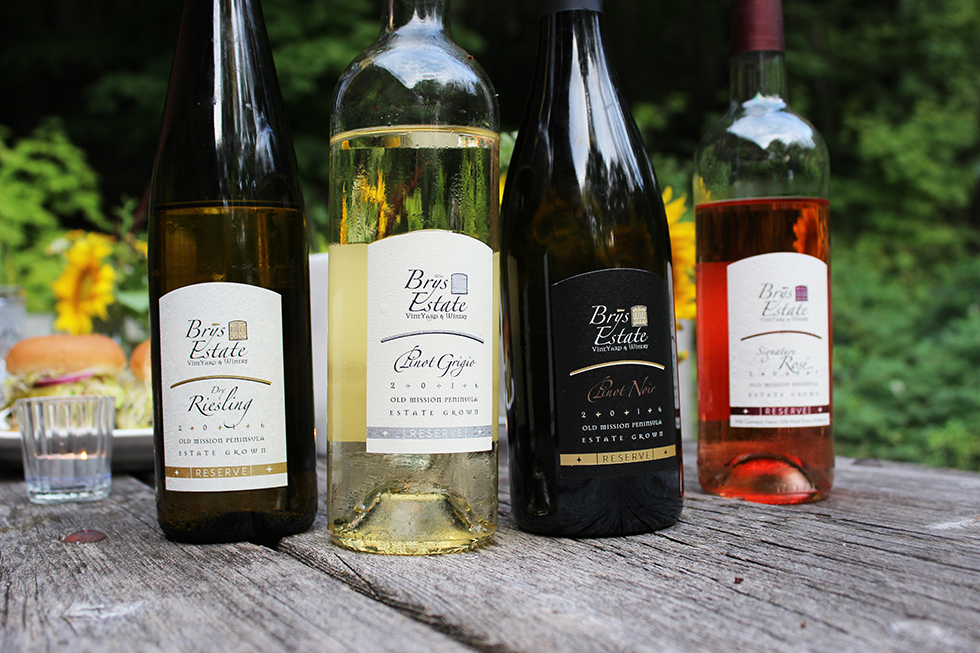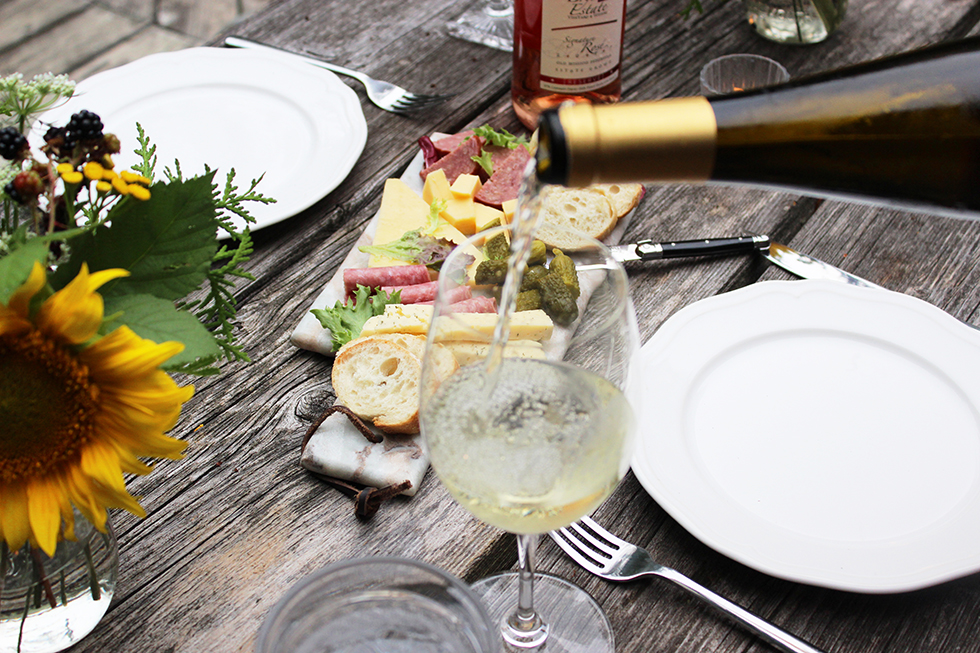 WINE COUNTRY CHEESE & CHARCUTERIE BOARD
Ingredients
Charcuterie: Salami, Prosciutto, Coppa, Speck, Chorizo, Pâté, Foie Gras
Cheeses: White Cheddar, Parmigiano Reggiano, Fontina, Irish Dubliner, Havarti, Manchego, Brie, Goat Cheese
Pickled Things: Cornichons, Giardiniera, Pickled Onion, Kalamata Olives, Castelvetrano Olives, Cracked Greek Olives, Pickled Asparagus, Pickled Brussels Sprouts
Fruit: Sliced Pear, Sliced Apple
Spreads: Whole Grain Mustard, Peach or Pear Chutney, Lavender Honey
Breads/Crackers: Focaccia, Olive Bread, French Bread, Water Crackers, Flavored Triscuits, Thinly Sliced Pumpernickel
Nuts: Cashews, Almonds, Pistachio
- Number of Items: the number of items you choose is largely dependent on the number of people you have. A general rule of thumb for an appetizer sized portion is 3 items for 1-2 people, 5 items for 3-4 people, and 8-10 items for 6-8 people.
- Item Types: a well rounded board will have an assortment of cheeses, meats, and pickled vegetables. I usually choose at least one item from each category. So for a 3 item board I will have a cheese, a meat and a pickled item. In addition, every board should have bread or crackers (or both) and a spread of some sort. See item suggestions below.
- Wine Pairing Suggestions: the items you select for your board will determine which wines pair best. Sharp cheeses such as white cheddar go well with sweeter style wines or crisp whites, creamy cheeses such as Fontina go well with Pinot Noir, salty or crumbly cheeses such as Parmigiano Reggiano go well with red wines. Cured meats typically pair best with red wines. Experiment and taste - it's part of the fun!
Shop Dry Riesling and Signature Rosé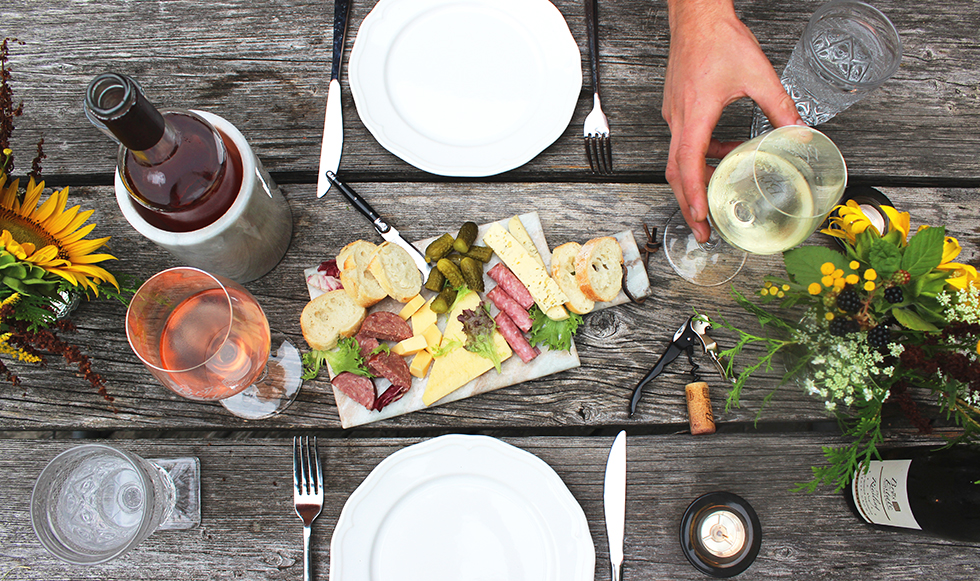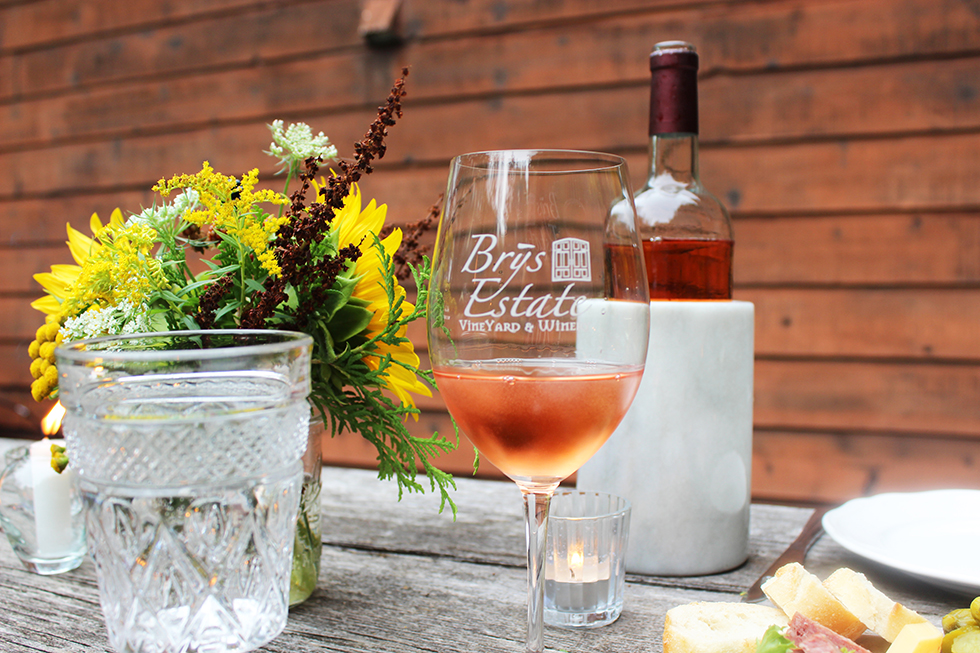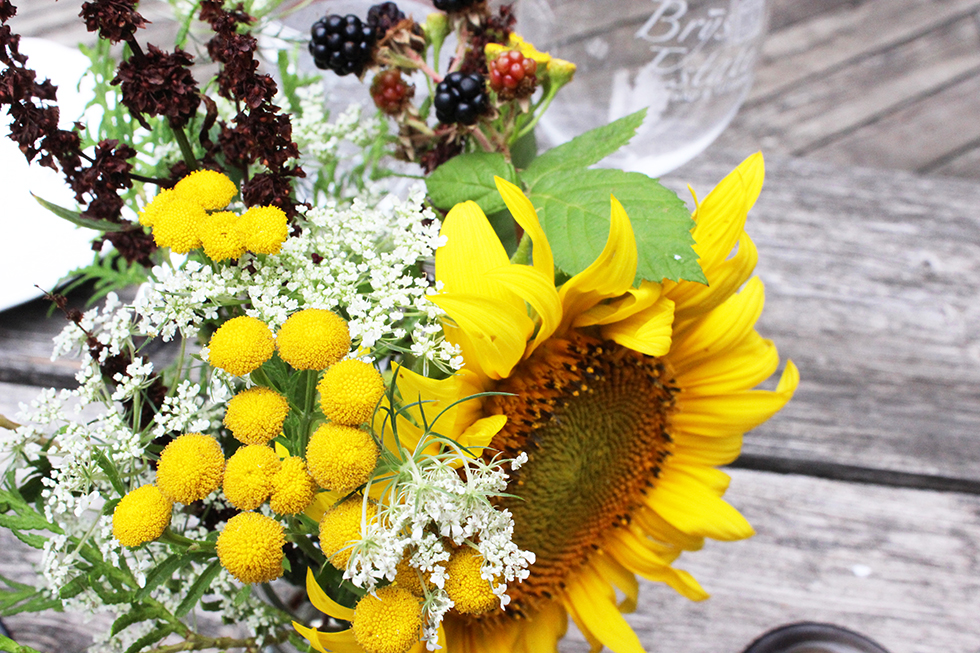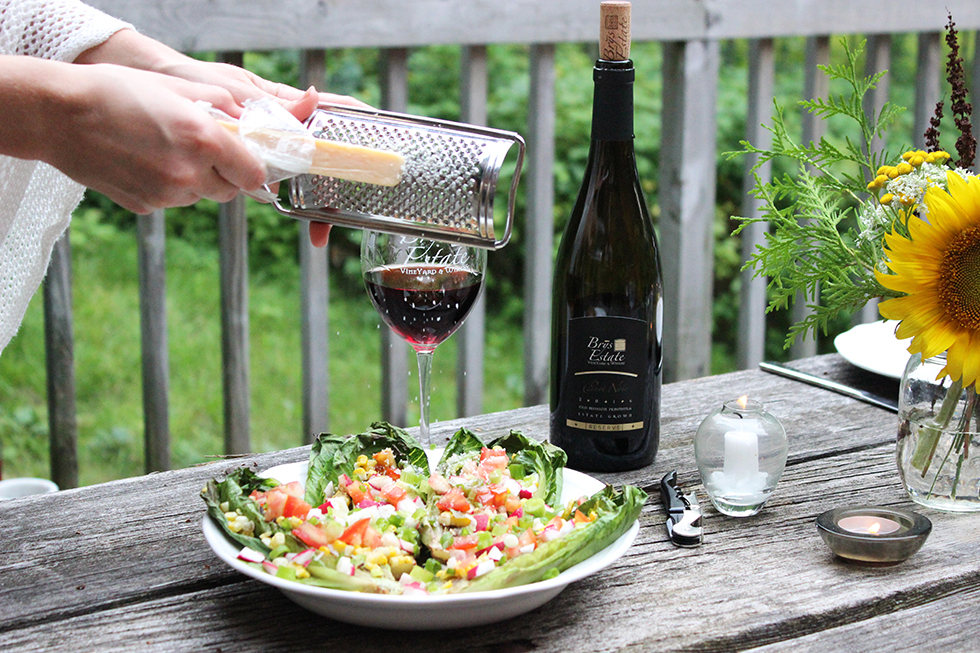 GRILLED ROMAINE WITH MICHIGAN SWEET CORN
Ingredients
romaine lettuce heads
fresh Michigan sweet corn
cherry or grape tomatoes - diced
radishes - diced
green onion - sliced
shaved Parmigiano Reggiano cheese
balsamic vinegar
extra virgin olive oil
salt
fresh ground pepper
Depending on how many people you are serving, you will need 1 head of Romaine for each 2 servings and 1 ear of corn for each 4 servings. Pre-heat barbeque grill over high heat. Rinse and pat dry the romaine heads. Slice romaine heads in half lengthwise so that you end up with 2 identical pieces. Shuck corn and remove any silks by hand. Place romaine on the grill cut side down and grill for 2-3 minutes with the grill lid open until the edges are just beginning to blacken. Remove romaine from heat. Reduce heat to medium. Place corn on grill and rotate every few minutes until the corn is partially blackened on all sides. Remove from heat. Once corn has cooled, cut the corn kernels off the cob. Once grilled, the grilled romaine and grilled corn can be refrigerated for a couple hours until ready to serve. To assemble, place grilled romaine on plate, top with the grilled corn kernels, diced radishes, tomato, green onion and shaved parmesan cheese. There is no measuring here, just top each salad with however much of any of the listed ingredients you like. Drizzle with good quality balsamic and olive oil, then season with salt and fresh ground pepper.
Shop Pinot Noir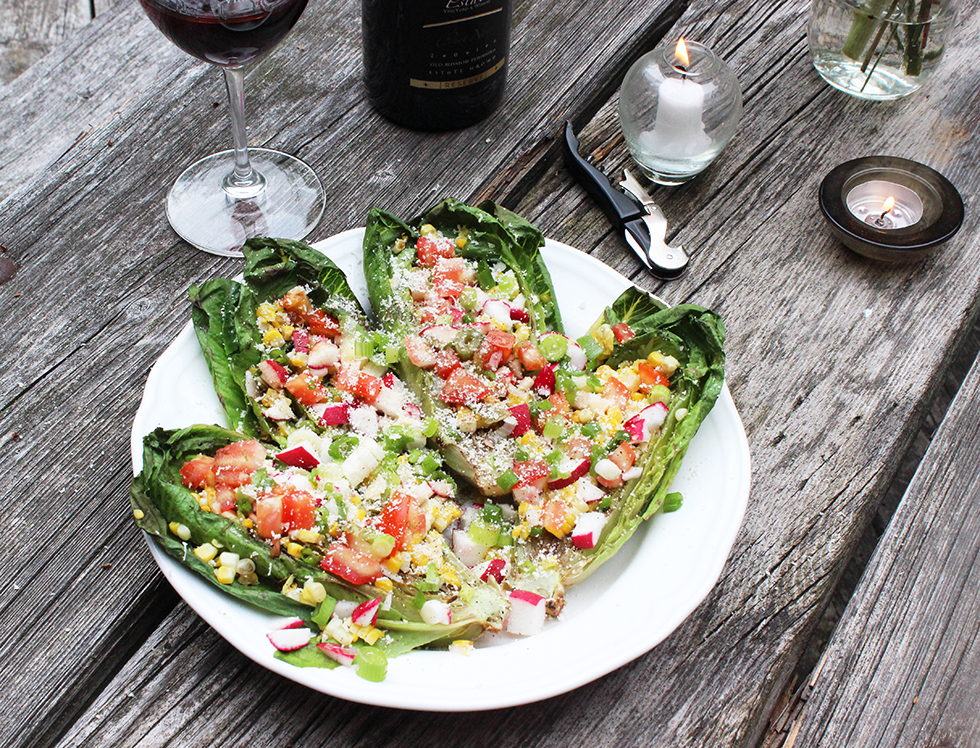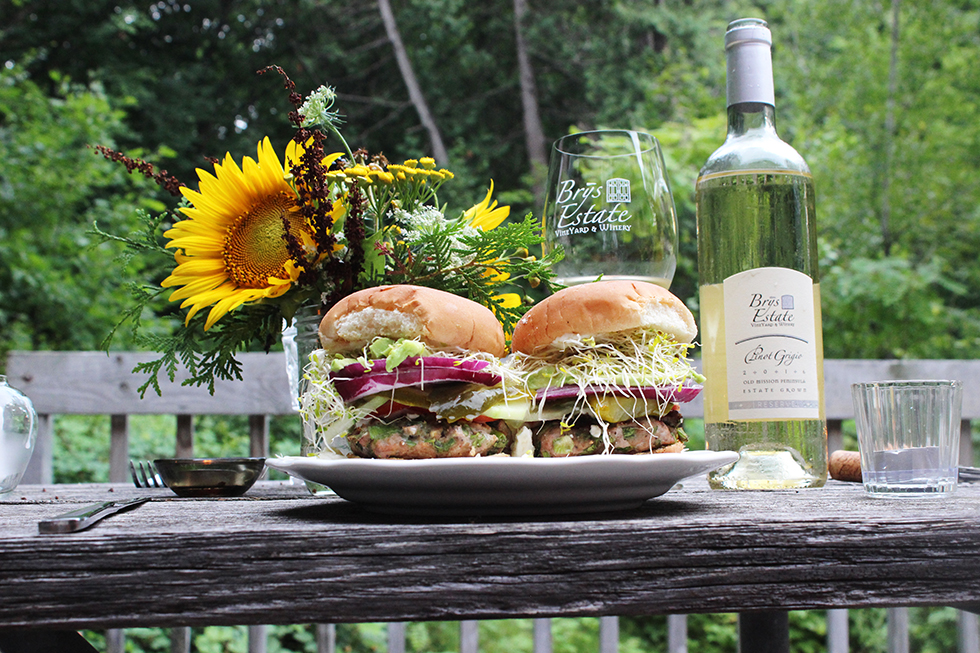 Ingredients
1 1/2 lbs ground turkey
2 cups chopped fresh spinach
2 scallions - sliced
2 cloves garlic - minced
1/2 tsp ground cumin
1/2 tsp salt
1/4 tsp black pepper
2/3 cup mayonaise
zest of 1 lemon
2 tbsps fresh lemon juice
1 clove of garlic, minced
1/4 tsp salt
1/4 tsp pepper
sliced tomato
red onion
sliced cucumber
pickle slices
sprouts
avocado slices
crumbled feta
In a large mixing bowl, combine the ground turkey, chopped spinach, scallions, garlic, cumin, salt and pepper. Mix well then divide into 4 equal patties. To make the lemon aioli, in a small bowl whisk together the mayonnaise, lemon zest, lemon juice, garlic, salt and pepper. Grill burgers over medium heat for 5-6 minutes per side or until cooked through. To assemble your California Turkey Burger, place some of the lemon aioli on the bottom bun, top with the burger patty, tomato, red onion, pickle, cucumber, sprouts, avocado and feta. Add a bit more aioli to the top bun before placing it on top. Enjoy with a glass of Brys Estate Pinot Grigio!
Shop Pinot Grigio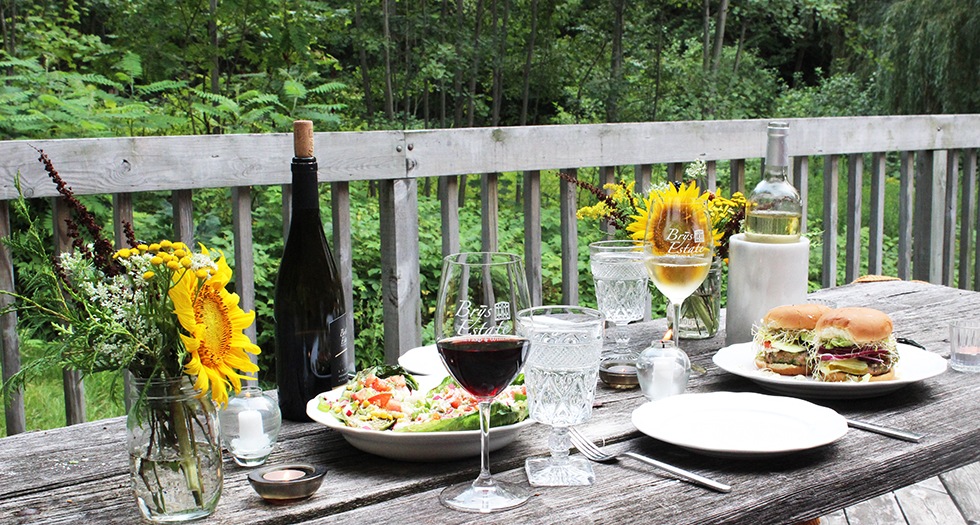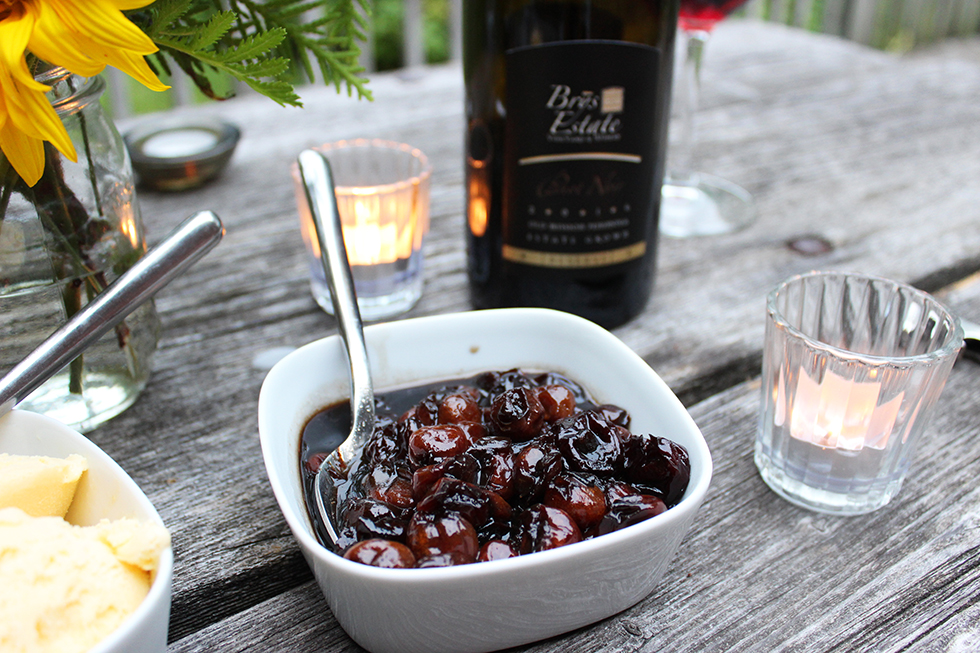 PINOT NOIR & DRIED CHERRY REDUCTION SAUCE
Ingredients
2 cups Pinot Noir
1 cup Michigan dried cherries
2 tsps sugar
1 tsp corn starch
1 tbsp butter
Add the Pinot Noir, dried cherries, and sugar to a sauce pan. Mix the corn starch with a little bit of wine before adding it to the pan to avoid any lumps. Over medium heat allow the pan to simmer for about 10 minutes until the liquid has reduced down to about 1 cup. Swirl in 1 tbs butter and serve warm.
Shop Pinot Noir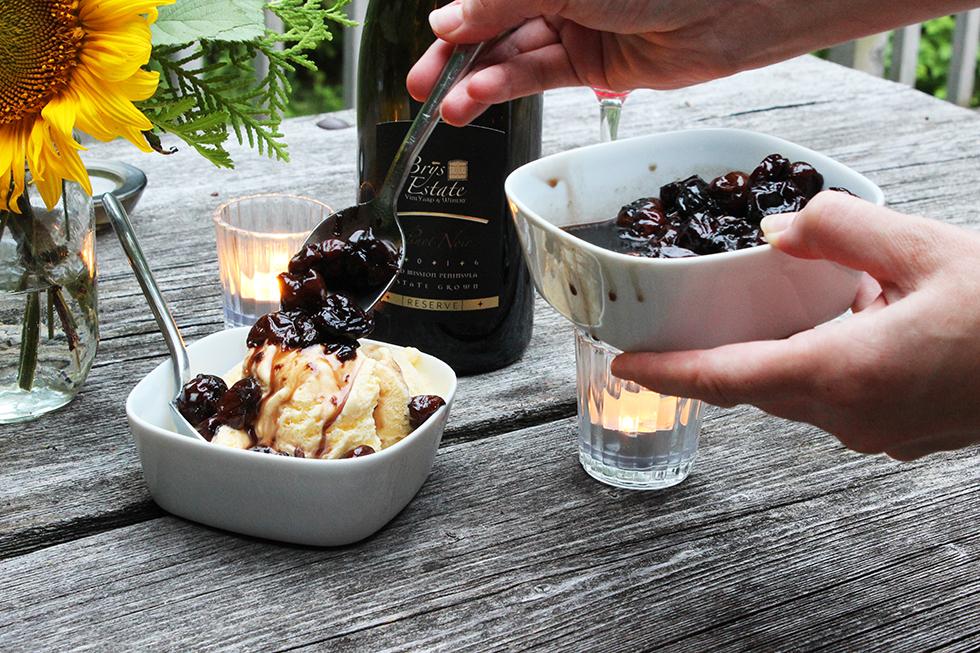 We're proud to share our most recent wine awards!

2018 Critics Challenge International Wine & Spirits Competition
🏆Best In Show White Wine - 2017 Gewürztraminer Reserve
🏆Best Gewürztraminer - 2017 Gewürztraminer Reserve
🏆Platinum Award - 2017 Gewürztraminer Reserve
🏆Gold - 2015 Cab/Merlot
Silver - 2017 Naked Chardonnay Reserve
2018 Tasters Guild International Wine Judging
🏆Gold - 2017 Gewürztraminer Reserve
🏆Double Gold - 2017 Riesling/Gris Reserve
🏆Double Gold - 2016 Riesling Reserve
🏆Double Gold - 2015 Cab/Merlot
Silver - 2017 Pinot Noir/Riesling
Silver - 2017 Naked Chardonnay Reserve
Silver - 2017 Pinot Blanc Reserve
2018 Pacific Rim International Wine Competition

🏆Gold - 2015 Cabernet Franc
Silver - 2015 Cab/Merlot
Silver - 2017 Pinot Blanc Reserve
Silver - 2017 Pinot Noir/Riesling
Bronze - 2017 Gewürztraminer Reserve
Bronze - 2015 Pinot Noir
Great job Coenraad & Jordan!

Happy Spring to everyone!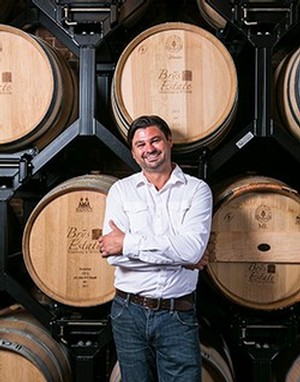 I hope that all of you enjoyed winter as much as possible, but now it is time to get excited about this new season and everything it has to offer.
This week we're moving towards the final stage of bottling, and I speak on behalf of everyone in production when I say, "Thank goodness we're almost done!". Also this week we are releasing four of our new vintages. We hope you can stop by the tasting room soon to sample them. And of course, overall, we're starting another growing season on the beautiful Old Mission Peninsula. This is a very exciting time of the year for us.
To reflect a bit on last season, let me start by saying that climate change is real, and we are all starting to see the effects it has on growing conditions. As you may know, we have a short growing season compared to other appellations in the United States, so it is crucial that this important period goes well. During the past few seasons, we have seen an increase in temperature and growing degree days which allow us to see an increase in ripeness as well as natural sugar and flavor development. But we have also noticed an increase in spring and fall precipitation, and that makes it very difficult to adjust our vineyard management practices to ensure the best quality fruit possible. We are working closely with the brilliant team from Agrivine to ensure we constantly come up with better management practices that influence the new wines as little as possible so that we can bring you the best product available.
To speak on our new release wines, I think the new whites will showcase a delicious balance between tropical fruit and acidity, and the red wines are very fruit forward with well-integrated tannins from the fruit as well as oak aging. We were also able to produce our very rare Artisan Series wines from the 2016 vintage. These wines were carefully crafted and left unfiltered to showcase the best possible techniques in winemaking. We are looking at 2019 release for these gems.
I am very excited about the upcoming growing season and the possibility to once again craft some of your favorite wines from our Estate. I thank you for your continued support and love for small, boutique style wines. Without you, I would just be a winemaker with a whole lot of wine to drink. And trust me, I would rather share it with all of you.
It takes a small village to make sure everything is done correctly and no shortcuts are taken. I would not be able to craft these wines if it was not for my assistant, Jordan Hooker. Your hard work and dedication are priceless - thank you, Jordan. If you see him on the tractor or in the cellar, please make sure to say 'hello'!
We hope that you fall in love with these wines as much as we have, and I hope to share a few laughs with you soon on the upper deck or tasting room. Just for PC reasons, I have to also include the golf course. See you soon.
Gesondheid(Cheers in Afrikaans).
Coenraad