Brys Estate Blog
Welcome to the our blog, here is where we will be highlighting events, news, and stories from around the vineyard & winery!

We're proud to share our most recent wine awards!

2018 Critics Challenge International Wine & Spirits Competition
🏆Best In Show White Wine - 2017 Gewürztraminer Reserve
🏆Best Gewürztraminer - 2017 Gewürztraminer Reserve
🏆Platinum Award - 2017 Gewürztraminer Reserve
🏆Gold - 2015 Cab/Merlot
Silver - 2017 Naked Chardonnay Reserve
2018 Tasters Guild International Wine Judging
🏆Gold - 2017 Gewürztraminer Reserve
🏆Double Gold - 2017 Riesling/Gris Reserve
🏆Double Gold - 2016 Riesling Reserve
🏆Double Gold - 2015 Cab/Merlot
Silver - 2017 Pinot Noir/Riesling
Silver - 2017 Naked Chardonnay Reserve
Silver - 2017 Pinot Blanc Reserve
2018 Pacific Rim International Wine Competition

🏆Gold - 2015 Cabernet Franc
Silver - 2015 Cab/Merlot
Silver - 2017 Pinot Blanc Reserve
Silver - 2017 Pinot Noir/Riesling
Bronze - 2017 Gewürztraminer Reserve
Bronze - 2015 Pinot Noir
Great job Coenraad & Jordan!

Happy Spring to everyone!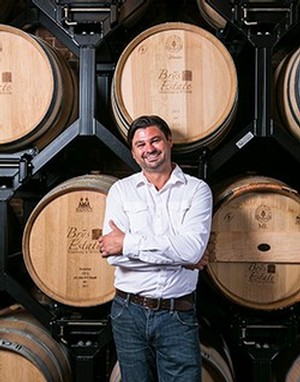 I hope that all of you enjoyed winter as much as possible, but now it is time to get excited about this new season and everything it has to offer.
This week we're moving towards the final stage of bottling, and I speak on behalf of everyone in production when I say, "Thank goodness we're almost done!". Also this week we are releasing four of our new vintages. We hope you can stop by the tasting room soon to sample them. And of course, overall, we're starting another growing season on the beautiful Old Mission Peninsula. This is a very exciting time of the year for us.
To reflect a bit on last season, let me start by saying that climate change is real, and we are all starting to see the effects it has on growing conditions. As you may know, we have a short growing season compared to other appellations in the United States, so it is crucial that this important period goes well. During the past few seasons, we have seen an increase in temperature and growing degree days which allow us to see an increase in ripeness as well as natural sugar and flavor development. But we have also noticed an increase in spring and fall precipitation, and that makes it very difficult to adjust our vineyard management practices to ensure the best quality fruit possible. We are working closely with the brilliant team from Agrivine to ensure we constantly come up with better management practices that influence the new wines as little as possible so that we can bring you the best product available.
To speak on our new release wines, I think the new whites will showcase a delicious balance between tropical fruit and acidity, and the red wines are very fruit forward with well-integrated tannins from the fruit as well as oak aging. We were also able to produce our very rare Artisan Series wines from the 2016 vintage. These wines were carefully crafted and left unfiltered to showcase the best possible techniques in winemaking. We are looking at 2019 release for these gems.
I am very excited about the upcoming growing season and the possibility to once again craft some of your favorite wines from our Estate. I thank you for your continued support and love for small, boutique style wines. Without you, I would just be a winemaker with a whole lot of wine to drink. And trust me, I would rather share it with all of you.
It takes a small village to make sure everything is done correctly and no shortcuts are taken. I would not be able to craft these wines if it was not for my assistant, Jordan Hooker. Your hard work and dedication are priceless - thank you, Jordan. If you see him on the tractor or in the cellar, please make sure to say 'hello'!
We hope that you fall in love with these wines as much as we have, and I hope to share a few laughs with you soon on the upper deck or tasting room. Just for PC reasons, I have to also include the golf course. See you soon.
Gesondheid(Cheers in Afrikaans).
Coenraad