Brys Estate Blog
Welcome to the our blog, here is where we will be highlighting events, news, and stories from around the vineyard & winery!

Coenraad Stassen is the vintner and winemaker at Brys Estate. When not between the vines or in the cellar, Coenraad is an avid hunter and enjoys cooking meals for family and friends. So when the Michigan DNR reached out about getting involved with their DNR Hunting and Wild Game Cuisine project he was excited to participate. Included in this post are two recipes. The first, Venison Stew with Brys Estate Merlot by Coenraad, and the second, Venison Loin with Parsnip Puree and Brys Estate Cabernet Franc, by a favorite, local fine dining restaurant – The Riverside Inn.
Hunting is an excellent way to provide locally-sourced food for your table and is a great activity for your family to enjoy together. Head over to www.Michigan.gov/hunting to learn more about where, when, and how to hunt in Michigan.
---
Venison Stew
I grew up in South Africa, and my father introduced me to hunting at a young age. This is one of my favorite ways to cook venison with family and friends. I am preparing this stew in a cast iron pot over hot coals (the Braai), a style of cooking traditional in South Africa, but you can prepare it on a stovetop as well using a cast iron pan or dutch oven. The key to preparing the most amazing stew is time. Low and slow will work best. Pick some of your favorite vegetables and layer them in order of cooking time.
Enjoy! – Coenraad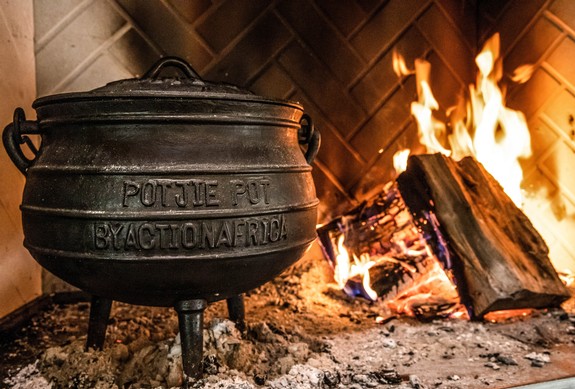 Yield – 10-12 servings
Time – 4 hours
Ingredients - Venison
3 lbs venison stew meat cut into 1 ½" pieces – for additional flavor, you can marinate the meat overnight with balsamic vinegar, red wine, olive oil, salt, and pepper
375ml rich red wine – Brys Estate Merlot
4 cups apple juice
2 cups olive oil
1 cup all-purpose flour or all-purpose gluten-free flour
¼ cup Worcestershire sauce
Ingredients - Seasonings
2 tsp pepper
2 tsp salt
1 tsp allspice
1 tsp paprika
2 tsp ground coriander (if you want to use seeds, toast before adding)
1 tsp ground cloves
2 Tbsp curry powder
1 tsp ground nutmeg
2 Tbsp brown sugar
Ingredients - Vegetables
3 medium yellow onions, thin-sliced
1 green pepper, diced
1lb bacon, chopped
1 16oz package of white mushrooms, sliced
1 medium butternut squash, cubed into 1" pieces
8-10 medium red skin potatoes, cut into quarters
6 carrots, peeled and sliced in ½ lengthwise
2 medium green zucchinis, sliced in half & then sliced in ½ lengthwise
20 dried apricots, cut in ½
Chopped parsley for garnish
Method
Add olive oil to the pot and heat. Add bacon, onions, mushrooms, and green pepper and sauté until tender & onion is translucent. Remove from stew pot and set aside
Coat venison in flour. Add to pot and sear on all sides. Once browned, add apple juice, red wine, Worcestershire sauce, and spice mixture. Make sure all the meat is covered by liquid. Slowly simmer, covered, for 90 minutes, or until tender. Add water or beef stock if needed to make sure the meat is covered in liquid.
Once the meat is tender, add butternut, potatoes, and carrots. Simmer for 40 minutes or until vegetables are tender.
Add zucchini and simmer for 15-20 minutes, or until tender
Add the bacon, onion, pepper & mushroom mixture with the dried apricots and simmer for a few minutes to incorporate all the flavors. Stir well.
Serve with rice or homemade bread to soak up the liquid.

---
Venison Loin with Parsnip Puree
Recipe by The Riverside Inn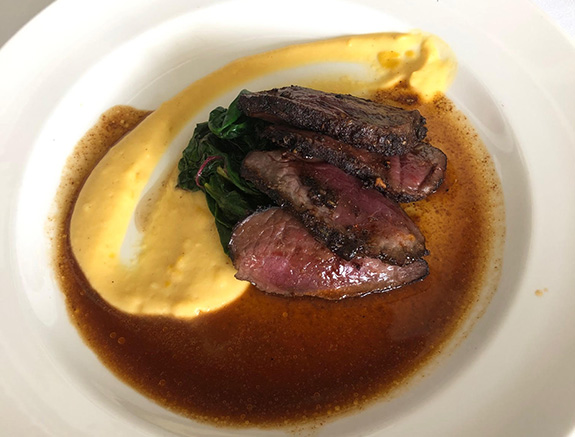 Yield – 4 servings
Time – 45 minutes
Ingredients - Venison
1 2lb Venison Loin or backstrap
Salt
Pepper
Butter – if you can find smoked butter – it is amazing! Boss Mouse Cheese here in Northern Michigan makes our favorite
Cooking Oil
Ingredients - Parsnip Puree
2lbs Parsnips peeled
4 cloves garlic peeled
½ cup Heavy Whipping Cream
½ cup milk
2 Tbs unsalted butter
Salt
Pepper
Method for Parsnip
Can be done ahead and reheated.
Heat over to 400 degrees. Wrap garlic in foil and spray a bit of olive oil. Roast in the oven for about 15 minutes until nice and golden.
Cut parsnips into 2" pieces and simmer, covered, in the cream and milk until tender – about 10-15 minutes. Add a few pinches of salt & pepper.
Remove lid and reduce the milk mixture by about ½. Add the roasted garlic and puree with an immersion blender, or in your blender – be careful with hot liquids in your blender!
Method for Venison
Best done with a cast iron or any heavy-bottomed pan that can go from stovetop to oven.
Remove Venison from the refrigerator, and place on a plate. Pat down until completely dry.
Generously sprinkle salt and pepper on all sides – let venison come to room temp.
Pre-heat oven to 450 degrees.
Set pan on the stovetop and preheat – you want this HOT. Add 2 tbsp cooking oil. Once ready, sear the venison on all sides. Let it sit in the pan undisturbed for 2 minutes per side. If the meat is sticking, it probably isn't ready to be flipped. You may need to add a bit more oil.
Once seared on all sides, add a generous spoonful of butter – 3-4 tablespoons, and place the pan in the oven. Cook for about 7-10 minutes, checking the internal temp midway. We like our venison at medium-rare, or 135. I would not recommend past 145, as it will dry out.
Once cooked to your temperature, place on a cutting board, and pour the butter from the pan over the meat. Let rest for 10 minutes before serving.
Serve with parsnip puree. Sauces that go well are demi-glace, sautéed mushrooms, blackberry compote.
Pour a glass of rich red wine - Brys Estate Merlot or Cabernet Franc.

---
For more recipe ideas from Brys Estate click here.

Traverse City, MI – Michigan's premier boutique winery, Brys Estate Vineyard & Winery, is excited to announce their 2017 Cabernet Franc Reserve and 2018 Riesling Reserve won major awards at the 20th annual Jefferson Cup Invitational Wine Competition. Brys Estate's Cabernet Franc Reserve was awarded a Jefferson Cup, and Riesling Reserve received nomination for a Jefferson Cup and won a Double Gold Medal.
Named the "Olympics" of wine competition by many, this invitational is unique in that is the only competition that honors the best of the best among wineries from all of America's wine regions. Rather than being open to every winery willing to submit an entrance fee, the organization select wines culled from tastings and competitions in America through 2019. This year's competition included 750 wines from 27 states, and at the end of the second day of tasting judges found 23 being worthy of Double Gold Medals, and just 36 wines were awarded the Jefferson Cup by the 20 judges.
Other Brys wines awarded in the competition were Artisan Cabernet Franc, Merlot, Artisan Merlot, Pinot Blanc, Dry Riesling, Gewürztraminer, Signature Rosé (Silver); Pinot Noir, Artisan Pinot Noir, Pinot Grigio, and Artisan Dry Riesling (Bronze).
"We are very proud to receive a Jefferson Cup for our Cabernet Franc. My goal as a winemaker has always been to challenge myself. Producing a world class Cabernet Franc in Northern Michigan takes a lot of discipline and dedication. At Brys Estate, we focus on the land, agriculture and hard work."- Brys Estate winemaker, Coenraad Stassen.