2019 Pinot Noir/Riesling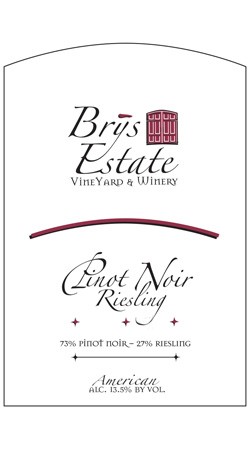 This fruity, easy drinking wine appeals to a wide range of palates, making it the perfect wine to pour at your summer soirée. Made with a unique blend of 73% Pinot Noir and 27% Riesling, it offers a buffet of fruit flavors like strawberry, cherry and raspberry. Balanced finish.
Wine Profile
Production Notes
73% Pinot Noir, 27% Riesling
Winemaker Notes
summer barbecue · fresh fruit · summer salads · pulled pork
Food Pairing Notes
Fresh fruit, salads, and BBQ or Asian inspired dishes
Production
1,600 cases produced
Product Reviews
Bob Brewbaker
(Mar 4, 2020 at 10:03 AM)
Bry's Pinot Noir/Riesling has become one of our favorite Summer wines to share on the patio with neighbors and friends. We have neighbors that prefer sweet white wines and like this. We have friends that don't like red wines, and love this. It is truly a favorite of our family. Bry's is also one of our favorite wineries... period. Thanks to Bry's for continuing to push forward with quality Michigan wines... and especially Pinot Noir/Riesling.
Andi Bartsch
(May 12, 2020 at 1:13 PM)
"Porch Pounder" is my all time favorite wine. It goes where we go when off to a friends for a BBQ or just to play cards.
Tony Stojov
(Jun 27, 2020 at 1:23 PM)
Truly the perfect wine for a barbecue, and our favorite summer wine period. We cannot get enough of it. It's simply delicious, and a perfect compliment to the summer.
John Cervenak
(Aug 6, 2020 at 5:05 PM)
An excellent choice of wine with beef on the BBQ along with grilled zucchini. Lite and tasty. Bon appetit! Enjoy!