Semi-Sweet B.E. Healthy & Happy Set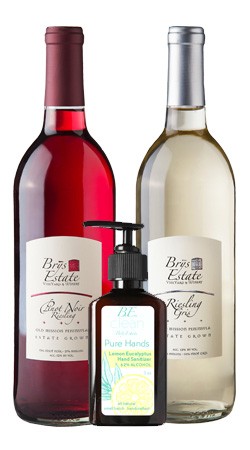 Our B.E. Happy & Healthy set will help you stay safe - and sane! 1- 3oz BE Clean Pure Hands (hand sanitizer), 1 Pinot Noir/Riesling, and 1 Riesling/Gris for $45 - includes shipping! Savings of over 20%! Not valid in combination with other discounts or promotions.
[$0.01 shipping will be applied automatically in the cart to bring the total to $45]
B.E. Clean Pure Hands is a NEW moisturizing hand sanitizer made by our Secret Garden that contains 62% alcohol (meets CDC recommendations), glycerin (which helps moisturize and counteract the drying effects of alcohol), Aloe Vera (helps prevent dry, cracked or peeling skin), and Vitamins B-5 and E. It is lightly scented with lemon, eucalyptus and tea tree essential oils!