Spaghetti & Meatballs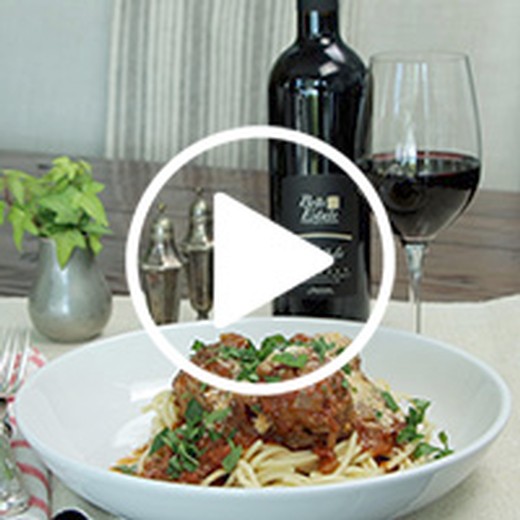 Measurements:
Imperial (US)
What could be more comforting than a bowl of Spaghetti and Meatballs on a crisp cool day? Loaded with flavor, these large 2-inch meatballs stay super moist due to their size and the addition of a little water to the mix. The simple yet rich sauce comes together quickly and is enhanced by the flavors of our Cab/Merlot. Sprinkle with parmesan and parsley then pair with a big glass of Cab/Merlot and this pasta favorite is guaranteed to please.
Ingredients
1 1/2 lbs Ground beef (15% fat)
1/2 lb Ground pork
2/3 cup Seasoned breadcrumbs
1/2 cup Freshly grated parmesan cheese
4 Cloves of minced garlic
1/4 tsp Crushed red pepper flakes (for spicier meatballs, use 1/2 tsp)
1 Egg
1/4 cup Chopped parsley (packed)
1/2 cup Water
1 1/2 tsps Kosher salt
1/2 tsp Pepper
Directions
Sauce
1 medium yellow onion - diced
3 cloves minced garlic
1/2 cup Brys Estate Cab/Merlot
28 oz can crushed tomatoes
1 tbsp (packed) chopped parsley
1 tsp salt
1/2 tsp pepper

1) In a large bowl, combine meatball ingredients. Mix, then lightly form mixture into 2 inch balls. (Recipe makes 12-14 meatballs)
2) In a large pot over medium heat, add olive oil to coat the bottom of the pot. Add half of the meatballs, careful not to crowd the pan. Brown the meatballs on all sides, then transfer to a plate. Repeat with the remaining meatballs.
3) Pour off oil and grease from the bottom of the pot, then add a drizzle of fresh olive oil.
4) Add onion to the pot and saute over medium heat until translucent, about 5-10 minutes. Add garlic and continue to cook for 1 more minute.
5) Add wine then using a wooden spoon, scrape up any brown bits on the bottom of the pan. Continue to cook the wine until it is reduced by half.
6) Add the crushed tomatoes, parsely, salt & pepper. Stir. Add meatballs back to the pot, then bring to a simmer. Cover and cook on low for 30 minutes.
7) Serve meatballs over spaghetti and top with freshly grated parmesan and chopped parsley.