Wine Wagon Tour & Tasting
Photogallery rendered here.
Hop on our 7 passenger "Wine Wagon", and explore the best of Brys Estate's 91 acres - from grape to glass!

During this approximately 2-hour immersive tour and tasting, guests will explore 5 unique locations throughout our 91-acre estate via open sided electric shuttle. Guests will tour the farmhouse gardens, experience beautiful scenic vistas, drive deep into the vineyard to learn about our growing practices, and enjoy a picnic snack at the Secret Garden! Wine tastings will be served at each stop along the way.
The Wine Wagon Tour & Tasting includes...
2 hour guided tour of Brys Estate via 7 passenger electric shuttle
7 wine samples at various locations throughout the 91 acre estate
Souvenir tasting glass
Picnic snack at the Secret Garden
Bottled water
Experience these 5 unique stops…

1: Brys Estate Family Farmhouse
Tour the farmhouse gardens overlooking the vineyard, or grab a rocker on the front porch and take in the view. Learn about the Brys Family and the story that led Walter and Eileen from Houston, Texas to Old Mission Peninsula and their extensive remodel of the original 1800's farmhouse. Taste our 2017 Naked Chardonnay Reserve.
2: Scenic Vineyard and Winery overlook
Departing the Farmhouse, the "Wine Wagon" will lead you to a scenic overlook that boasts a beautiful view of our vineyards and winery. Learn about the once abandoned cherry farm that was transformed into a thriving 45-acre vineyard. Discuss our growing practices and the microclimate that enables us to grow 8 different varietals of European vinifera. Taste our 2016 Dry Riesling Reserve.
3: Secret Garden
Twelve acres of the Brys Estate property was deemed not suitable for growing grapes, so inspired by a trip to France, Eileen and her two daughters created the Secret Garden in 2016. The Secret Garden is now home to 6,000 lavender plants, seasonal strawberry and blueberry plants, a sunflower field, a gift shop, and more. Enjoy a light picnic, while tasting our 2016 Signature Rosé Reserve. Stroll the gardens and gift shop at your leisure.
4: Cabernet Franc Vineyard
Hop back on the "Wine Wagon" and drive deep into our vineyard to surround yourself with Cabernet Franc vines while tasting our 2016 Cabernet Franc Reserve produced by grapes grown on these same vines. Learn about the annual growth cycle of our grapevines and our vertical trellising system.
5: Winery Production Areas
Return to the winery and tour our production facility and learn about our small batch wine making practices. Taste our 2016 Pinot Noir Reserve. Finish the tour and tasting with a walk on our Bridge Above the Vines on our Upper Deck overlooking the vineyard!

Watch our Wine Wagon in action on 9&10 News Brewvine!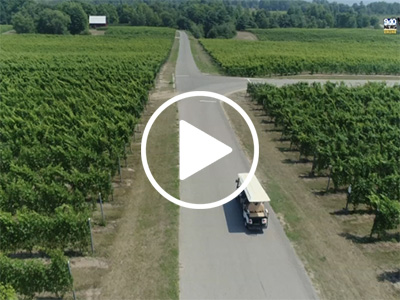 ---
Here's what our guests are saying:

"The Wine Wagon Tour & Tasting was a wonderful way to spend part of an afternoon, enjoying the weather as we toured the vineyards and tasting some of my most favorite wines." - Ron W.
"We spent the most wonderful two hours last Saturday being chauffeured by Erick through the vines on a beautiful and comfortable open-air cart. It was a splendid way to learn about wine, Brys Estate methods of producing it, how many factors enter into the result of their superior wines. Highly recommend experiencing this when visiting the Old Mission Peninsula!!!" - Kate W.
"Amazing wine tour worth every penny! Erick absolutely rocks! Loved every bit of it as it was both informative and fun. Wine was delicious too!" - A.M.
---
Tours depart from the Brys Estate wine tasting room at 11:00am, 1:30pm, and 4:00pm. Tours are limited to 7 guests. Wine Wagon Tour & Tastings are available by advance reservation only. It is suggested that guests arrive at least 15 minutes prior to their scheduled tour time.

*Tour route subject to change due to vineyard work or treatments*
Wine Wagon Tour & Tasting
$50 per person
$45 Wine Club Members
(gratuity not included)
Max. 7 guests; Must be 21+ years old
Availability
Saturdays, Memorial Day - Labor Day
11:00am, 1:30pm, and 4:00pm
Tickets on sale April 2, 2019
Sign up for our newsletter to be the first to know when tickets go live!
Private Wine Wagon Tours:
Looking for a private experience? Our Wine Wagon is available for private tours daily by appointment. $350 per tour ($300 for wine club members) for 2 to 7 guests. If you are interested in booking a private our please contact us.
Minimum Number:
Each tour can take no less than 4 and no more than 7 guests at a time. The minimum number of 4 must be met in order for your reservation request to be confirmed. If your selected tour date and time does not yet have 4 guests, you will receive an email confirming your reservation request and your credit card will not be charged. Once the minimum number has been met, you will receive an email confirming your reservation and your credit card will be charged.
Rescheduling:
Guests wishing to reschedule their tour date or time may do so at least 7 days in advance by contacting us.
Cancelling/Weather:
Due to the limited availability of our tours, tickets are nonrefundable, except in cases of severe weather or rain. If the tour is cancelled due to weather, guests will be contacted and may choose to reschedule or receive a full refund.
Gratuity:
Gratuity is not included in the ticket price or in booking fees. If you have a great time, feel free to show your tour guide your appreciation!
Other notes:
Tour requires guests to occasionally walk and stand. We request cell phones be silenced during the tour. Please wear appropriate clothing and shoes. Children under 21 not allowed.