Cavatappi with Sausage, Kale & Fingerling Potatoes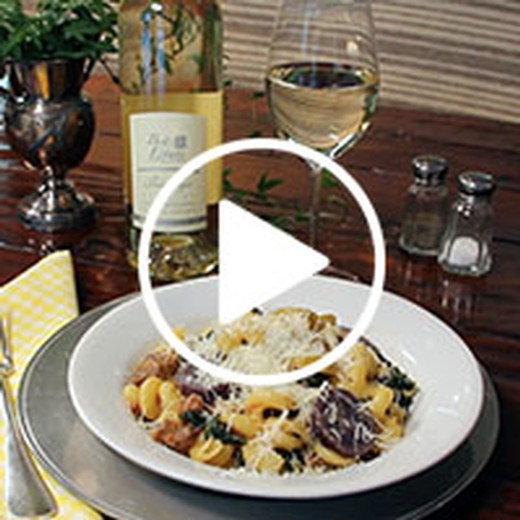 Measurements:
Imperial (US)
This quick and easy pasta dish will be a perfect accompaniment to your night in with guests and your bottle of Brys Estate Pinot Grigio! Spicy sausage, melted cheese, and extra flavors from crisp kale and savory potatoes...yes, our mouth is watering too.
Ingredients
3 tbsps olive oil
1 lb uncooked Hot Italian Sausage (pork or turkey) - casings discarded and sausage crumbled
1 bunch kale - cut out center stems and rough chop the leaves
3 cloves garlic, minced
6 fingerling potatoes - sliced into 1/4 inch medallions
3 cups chicken stock (not broth)
1 lb Cavatappi noodles
1 cup grated Pecorino Romano cheese, plus more for serving
kosher salt
Directions
Heat oil in saute pan over medium high heat. Add sausage and cook until sausage is browned and well cooked, about 5-7 minutes. Add garlic and saute for an additional 1-2 minutes. Add potatoes, chicken stock, 1/2 teaspoon salt and kale and bring to a boil, stirring frequently to help mix the kale in. Once the pot comes to a boil and the kale is cooked down and mixed in well, cover and reduce the heat to low and simmer for 20 minutes until the potatoes have softened. Add additional 1/2 tsp salt to taste.
Meanwhile, bring a pot of salted water to a boil and add pasta, cooking a few minutes less than the package directions. Drain and return pasta to the pot. Add sauce to the pot of pasta and cook the sauce with the pasta over medium heat for a few minutes until the pasta is perfectly cooked. Add cheese and drizzle with olive oil then toss vigorously to combine. Serve garnished with a sprinkle of cheese on top.
TIP: The sauce can be made ahead and kept in the refrigerator. Just reheat over medium heat and toss with cheese, olive oil and hot pasta before serving.