Curried Carrot Soup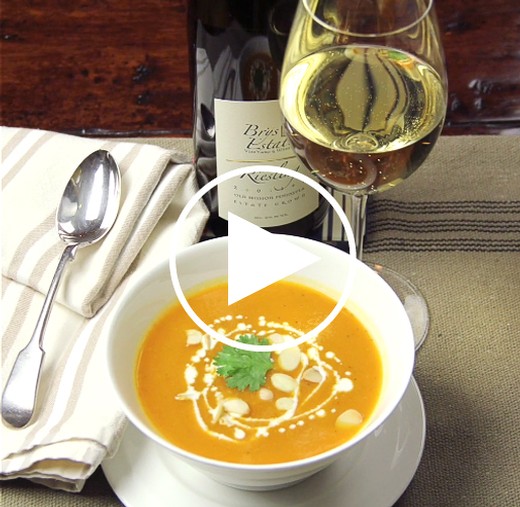 Measurements:
Imperial (US)
This soup will warm your heart and soul! With its delicious roasted vegetable flavors and hint of warm spice, this soup pairs perfectly with a glass of our estate grown Riesling!
Ingredients
2 lbs carrots - peeled
1 yellow or sweet onion
1/2 russet potato
8 cups chicken stock (not broth)
up to 1 tbs curry powder
1 1/2 - 2 tsp kosher salt (to taste)
fresh ground pepper
dash of heavy cream
sliced almonds - toasted
cilantro
Directions
Dice carrots, onion, and potato into 1 inch cubes. Place on sheet pan, drizzle with olive oil and sprinkle with salt. Toss. Roast at 425 degrees for approximately 30-45 minutes until lightly browned.
In a soup pot, add roasted carrots, onions, and potatoes. Add chicken stock, 1 1/2 tsp salt, and curry powder.
NOTE: some curry powders are spicier than others. If you are not sure how spicy your curry powder is, start by adding 1/2 tbs of the curry powder now, then taste and add the remaining curry powder at the end when you are adjusting your final seasonings.
Bring to a boil, then reduce heat and simmer for 30 minutes.
Puree soup using an immersion blender. If you don't have an immersion blender (which is one of my favorite kitchen gadgets and can be purchased at any kitchen supply store for less than $30) you can puree the soup in batches in a blender.
Stir in 1/4 tsp fresh ground pepper. Taste for salt and or the spiciness of the curry and adjust if necessary. Garnish with a drizzle of heavy cream, toasted sliced almonds and cilantro.