Texas Chicken - Grilled Chicken with Sun Dried Tomatoes, Goat Cheese & Basil Butter Sauce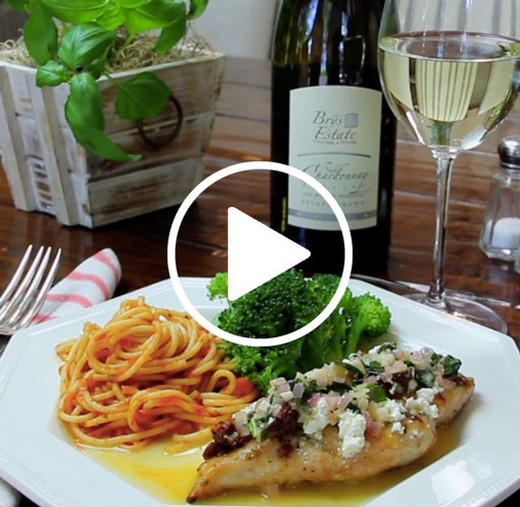 Measurements:
Imperial (US)
Inspired by one of my favorite restaurants in Houston, this dish takes a boring chicken breast to another level! The grill flavors of the chicken combined with the creamy goat cheese, fresh basil and bright sun dried tomato flavors all combine to create the perfect summer dinner! Enjoy this dish paired with our award winning Naked Chardonnay and raise a glass to summertime!
Ingredients
4 chicken breasts
goat cheese - broken into large crumbles
sun dried tomatoes (packed in oil) - purchase them pre-cut or cut into 1/4 inch strips
1/4 cup diced shallots
1 tbsp minced garlic
1/2 cup dry white wine such as Brys Estate Naked Chardonnay
1 tsp fresh squeezed lemon juice
8 medium basil leaves - rough chop
4 tbsps butter - cut into cubes
olive oil
kosher salt
fresh ground black pepper
Directions
Preheat grill over medium high heat. Preheat oven to 200 degrees.
Prepare ingredients for the sauce. In one small bowl add the chopped shallot and garlic. In a second small bowl add the white wine, lemon juice, 1/2 tsp. kosher salt and 1/4 tsp. fresh ground black pepper. In a third bowl add the diced butter and basil. Set aside.
Pat chicken breasts dry with a paper towel. Drizzle with olive oil. Sprinkle both sides with salt and pepper.
Grill chicken for 6-7 minutes on each side, until the breasts are golden brown and cooked through. Grill times will vary depending on your grill settings.
When the chicken is done, remove chicken from the grill and transfer to a platter. Top each chicken breast with the crumbled goat cheese and sun dried tomato slices. Cover platter with foil and place in the oven to keep warm.
To make the basil butter sauce, add 1 tbsp. of olive oil to a small sauce pan over medium heat. Add the shallots and garlic to the pan and saute for 2-3 minutes until they begin to soften. Add the white wine, lemon juice, salt and pepper and simmer uncovered until the liquid has reduced by half - about 2-3 minutes. Add the basil and butter and stir just until the butter has melted. Remove sauce from heat.
To serve, plate the chicken then top with the basil butter sauce. Serve with pasta marinara or smashed redskin potatoes and your favorite green vegetable.
Recipe by Patrick Brys