Grilled Romaine with Michigan Sweet Corn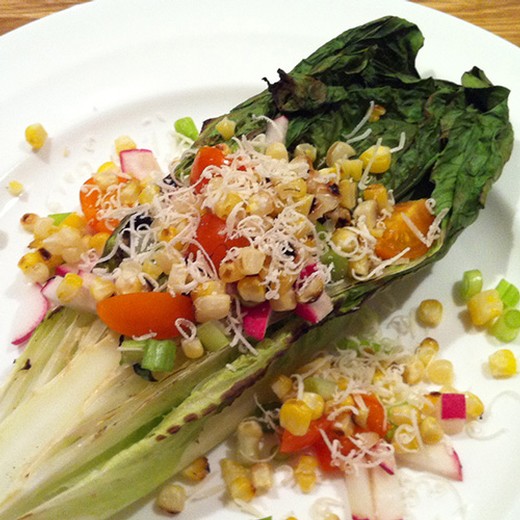 Measurements:
Imperial (US)
This is a great end of summer salad, when sweet corn and tomatoes are in full season. The smoky grill and fresh vegetable flavors go beautifully with the sweet tangy balsamic and salty parmesan cheese. Enjoy this salad as a starter before any end of summer meal, such as steaks on the grill, grilled pizzas, or summer pastas.
Ingredients
romaine lettuce heads
fresh Michigan sweet corn
cherry or grape tomatoes - diced
radishes - diced
green onion - sliced
shaved Parmigiano Reggiano cheese
balsamic vinegar
extra virgin olive oil
salt
fresh ground pepper
Directions
Depending on how many people you are serving, you will need 1 head of Romaine for each 2 servings and 1 ear of corn for each 4 servings.
Pre-heat barbeque grill over high heat. Rinse and pat dry the romaine heads. Slice romaine heads in half lengthwise so that you end up with 2 identical pieces. Shuck corn and remove any silks by hand. Place romaine on the grill cut side down and grill for 2-3 minutes with the grill lid open until the edges are just beginning to blacken. Remove romaine from heat. Reduce heat to medium. Place corn on grill and rotate every few minutes until the corn is partially blackened on all sides. Remove from heat. Once corn has cooled, cut the corn kernels off the cob. Once grilled, the grilled romaine and grilled corn can be refrigerated for a couple hours until ready to serve.
To assemble, place grilled romaine on plate, top with the grilled corn kernels, diced radishes, tomato, green onion and shaved parmesan cheese. There is no measuring here, just top each salad with however much of any of the listed ingredients you like.
Drizzle with good quality balsamic and olive oil, then season with salt and fresh ground pepper.