Yellow Split Pea Soup with Pancetta & Rosemary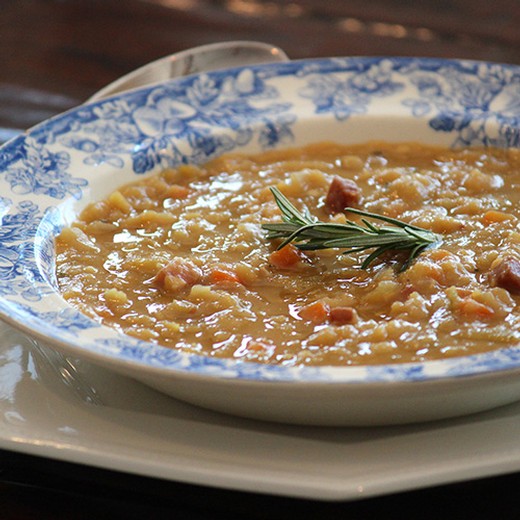 Measurements:
Imperial (US)
This delicious and easy spring time soup would be a great starter for your Easter dinner! I use yellow split peas which you can find at any specialty food store (such as Oryana in TC). I find the yellow split peas offer a slightly milder and slightly sweeter taste than your traditional green split peas - however you could certainly use either for this recipe. The pancetta brings in a bit of smokiness to the soup while the rosemary adds a hint of freshness. Serve this with a glass of our crisp Pinot Blanc and enjoy!
Ingredients
2 cups yellow split peas
6 ozs pancetta - diced
8 cups chicken stock
1 medium red onion - diced
2 medium carrots - diced
1 medium leek - sliced
2 garlic cloves - minced
2 bay leaves
1 1/2 tsps fresh rosemary - chopped
1 tbsp olive oil
1 tsp salt
1/2 tsp fresh ground black pepper
Directions
In a medium soup pot, add in the olive oil and pancetta and saute over medium-high heat until lightly browned and crispy. Next, add in the onion, leek, carrot and garlic and saute until the vegetables have softened, about 5 minutes. Finally, add the broth, peas, bay leaves, rosemary, salt and pepper and bring to a boil. Reduce heat to low, cover and simmer for 1 hour.
After 1 hour of cooking remove the lid, raise heat to medium-low and continue to simmer uncovered for an additional 20 minutes.
Remove bay leaves before serving. Serve garnished with a small sprig of fresh rosemary.
Leftover soup will thicken over time. To thin, add additional chicken stock to achieve your preferred consistency.