Bacon Basil Pasta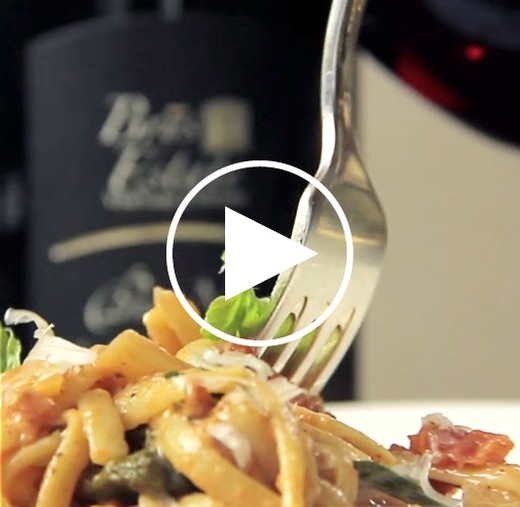 Measurements:
Imperial (US)
With a short list of ingredients, and one pan in which to bring them all together, this impressive dish can be created by any kitchen newbie. And the sturdy, rich Brys Estate Pinot Noir pairs perfectly with the creamy tomato sauce and bold basil flavor. Bon appetit!
Ingredients
1/3 lb thick cut smoked bacon - cut into 1 inch squares
1 large yellow onion
3 cloves garlic
1 28oz can chopped tomotoes in juice
1 cup fresh basil leaves - torn (divided use)
1/2 cup heavy cream
3/4 tsp kosher salt
1/4 tsp pepper
1/2 lb pasta such linguine or cavatappi
Directions
Bring a large pot of salted water to a boil.
In a large saute pan over medium heat, add diced bacon and cook until the bacon is crisp and brown. Remove cooked bacon and set aside reserving the rendered bacon fat in the pan.
Add diced onion to the pan with the bacon fat. Saute until softened and translucent. Add minced garlic to the pan and continue to cook 1 minute until the garlic is fragrant. Add 28oz can of chopped tomatos and their juices to the pan. Add 1/2 cup of the fresh basil leaves to the pan - tearing them into bite sized pieces. Bring the sauce to a heavy simmer and continue to cook uncovered for 15 minutes allowing the sauce to reduce and thicken.
While the sauce simmers, add pasta to boiling water and cook 1 minute less than the package directions.
After the sauce has reduced, add 1/2 cup heavy cream, reserved cooked bacon, remaning 1/2 cup torn basil leaves, 3/4 tsp salt and 1/4 tsp pepper. Stir to combine.
Stir in cooked pasta and continue to cook for 1-2 minutes until the pasta has finished cooking.
Serve topped with more fresh basil and grated parmesan cheese.