California Turkey Burger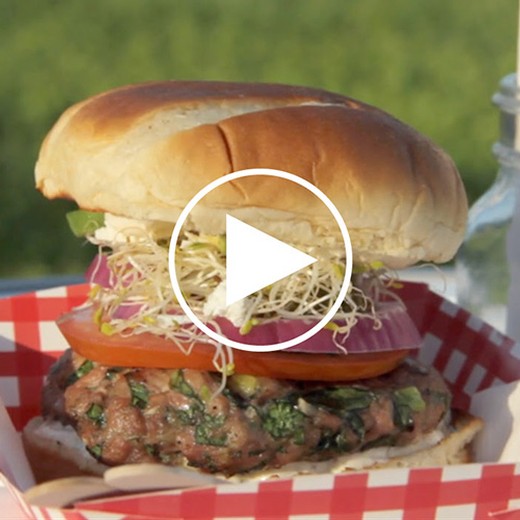 Measurements:
Imperial (US)
Looking for a healthy yet delicious burger alternative to pair with a white wine?  Fire up the grill with our California Turkey Burgers which pair perfectly with our estate grown Pinot Grigio!  These calorie friendly burgers combine the lighter flavors of grilled turkey with flavor packed healthy toppings such as creamy lemon aioli, avocado, sprouts, and crumbled feta!
Ingredients
1 1/2 lbs ground turkey
2 cups chopped fresh spinach
2 scallions - sliced
2 cloves garlic - minced
1/2 tsp ground cumin
1/2 tsp salt
1/4 tsp black pepper
2/3 cup mayonaise
zest of 1 lemon
2 tbsps fresh lemon juice
1 clove of garlic, minced
1/4 tsp salt
1/4 tsp pepper
sliced tomato
red onion
sliced cucumber
pickle slices
sprouts
avocado slices
crumbled feta
Directions
In a large mixing bowl, combine the ground turkey, chopped spinach, scallions, garlic, cumin, salt and pepper. Mix well then divide into 4 equal patties.
To make the lemon aioli, in a small bowl whisk together the mayonnaise, lemon zest, lemon juice, garlic, salt and pepper.
Grill burgers over medium heat for 5-6 minutes per side or until cooked through.
To assemble your California Turkey Burger, place some of the lemon aioli on the bottom bun, top with the burger patty, tomato, red onion, pickle, cucumber, sprouts, avocado and feta. Add a bit more aioli to the top bun before placing it on top.
Enjoy with a glass of Brys Estate Pinot Grigio!