Cream of Mushroom & Herb Soup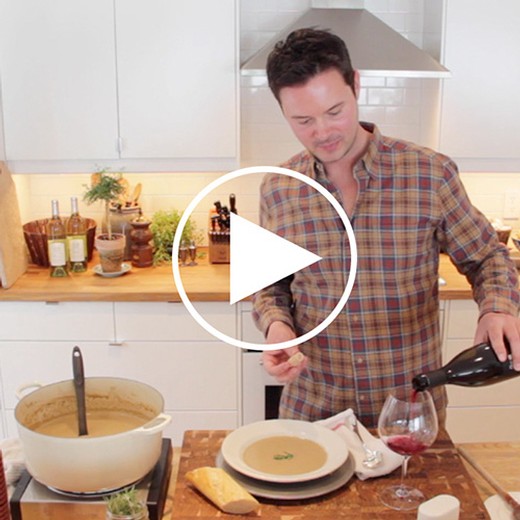 Measurements:
Imperial (US)
As the leaves begin to fall and the nights get cooler and cooler, this delicious and simple cream of mushroom & herb soup will warm you with it's earthly flavors and rich texture. I use baby bella mushrooms which have a slightly more earthy flavor than your traditional button mushrooms, but you could certainly use any type of mushroom you prefer. Enjoy this with a glass of our Pinot Noir and raise a glass to the changing seasons.
Ingredients
3 eight ounce containers sliced baby bella mushrooms
1 large yellow onion - diced (about 2 cups)
3 cloves garlic - minced
6 cups chicken stock (not broth)
1/2 stick of butter
1/4 cup flour
1 cup Brys Estate Pinot Noir
heavy cream - 1/2 cup to 1 cup - depending on how creamy you like it
1 tsp fresh thyme - minced
1 tsp fresh rosemary - minced
2 1/2 tsps kosher salt (the amount of salt will vary depending on the saltiness of your chicken stock)
3/4 tsp fresh ground black pepper
Directions
Melt butter over medium heat in a large soup pot. Add onion and garlic and saute till tender. Add mushrooms and continue to saute until the mushrooms are tender and most of the liquid has evaporated.
Add flour, continue to stir and cook for 1 minute. Add the Pinot Noir and deglaze the pan, scraping up any brown bits from the bottom of the pan. Next add the chicken stock and herbs. Bring the soup to a boil, then simmer uncovered for 15 minutes.
Using an immersion blender, puree soup. If you don't have an immersion blender, you can use a traditional blender to puree the soup in batches. Finally, add cream, salt (the amount of salt will vary depending on the chicken stock you use) and pepper and stir to combine.