Crock Pot Spaghetti Bolognese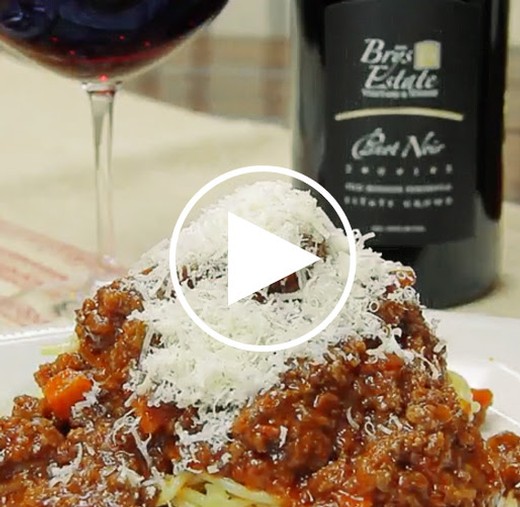 Measurements:
Imperial (US)
Inspired by a recent trip to Italy, Patrick has decided to create this super easy make-ahead dinner that's perfect for entertaining. Crock Pot Spaghetti Bolognese, paired with Pinot Noir, is something you can prepare in the morning and enjoy in the evening. Patrick's secret to creating a rich sauce with extraordinary flavor is a simple crock pot. There's no need to fuss over the stove all day, watching and simmering. The crock pot takes care of that for you! Go out, enjoy the day, go snowshoeing or cross-country skiing! When you come home, you'll have a delicious meal waiting for you. Cheers!
Ingredients
1 tbsp olive oil
2 yellow onions - diced
2 stalks celery - diced
2 large carrots - diced
1/2 lb sweet italian sausage (about 3 links) - crumbled
1 1/2 lbs ground beef chuck
1 1/2 cups Brys Estate Pinot Noir
2 (28oz) cans Whole Italian Tomatoes in Juice
1 1/2 tsps kosher salt
3/4 tsp fresh ground black pepper
Directions
In a large sauté pan over medium-high heat, add olive oil, onion, carrot and celery. Sauté about 5 minutes till the vegetables have softened. Add Italian sausage and ground beef, sauté about 5 minutes till the meat is browned and well cooked. Add Pinot Noir, continue to cook until most of the wine has evaporated - about 5-10 minutes.
Add meat and vegetables to a crock pot. Add pureed tomatoes. Add salt and black pepper. Stir. Set your crock pot to low and cook for 8 hours. The longer you cook it the better it will become. You can't over cook this sauce!
For the last hour of cooking, crack the lid slightly to allow the sauce to reduce slightly.
Serve over spaghetti or your favorite pasta. Garnish with grated parmesan cheese.