Feta Stuffed Lamb Burgers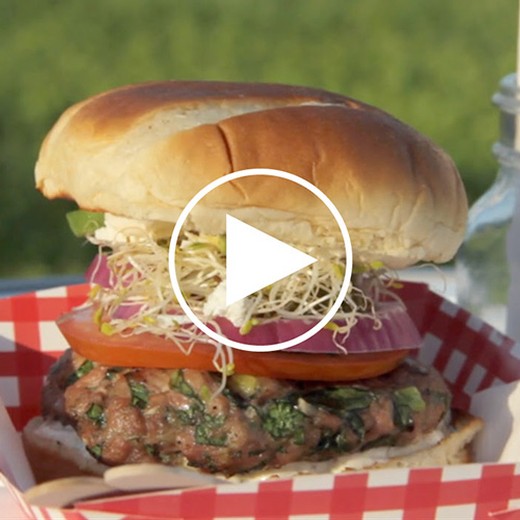 Measurements:
Imperial (US)
Move over boring cheeseburger!  Spice up your summer grilling with our Feta Stuffed Lamb Burger!  Mediterranean flavors of lamb, feta, mint, oregano, cucumber, olive and red onion combine to create a gourmet burger that will take your summer cookout to the next level!  Pair this with a glass of our Pinot Noir and raise a toast to summertime!
Ingredients
3/4 lb ground lamb
3/4 lb ground beef chuck
2 scallions - sliced
2 fresh oregano sprigs
2 fresh mint sprigs
1 tsp dijon mustard
1/2 tsp salt
1/4 tsp black pepper
1/2 cup feta cheese
1/2 cup mayonnaise
2 tbsps olive tapenade
sliced tomato
sliced cucumbers
sliced red onion
Directions
In a large mixing bowl, combine the ground lamb, ground beef, scallion, oregano, mint, dijon mustard, salt and pepper. Mix well then divide into 4 equal portions. Divide each portion in half and create two thin burger patties - each about 1/4 in thick. Place one of the thin patties on a plate, then top with 2 tablespoons of feta cheese. Please the other thin patty on top. Crimp around the edges to seal, then pick up the burger and form it into a uniform burger shape.
To make the olive tapenade sauce, in a small bowl whisk together the mayonnaise with the olive tapenade.
Grill the burgers over medium heat for 4-5 minutes per side or until cooked to your preferred temperature.
To assemble your feta stuffed lamb burger, place some of the olive tapenade sauce on the bottom bun, top with the burger patty, tomato, cucumber and red onion. Add a bit more sauce to the top bun before placing it on top.
Enjoy with a glass of Brys Estate Pinot Noir!