Holiday Quiche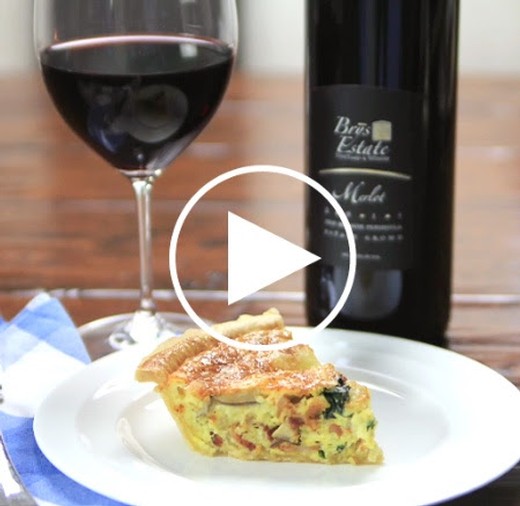 Measurements:
Imperial (US)
Having quiche for brunch on holidays has always been a tradition in the Brys family. Expanding on the traditional Quiche Lorraine which has bacon and gruyere cheese, I decided to add shittake mushrooms, sauteed spinach and shallots. In the recipe I call for heavy cream (it is a holiday after all!) but if you are feeling more calorie conscious you can always use half and half instead. Also, if you are feeling really energetic you can always make your own pie crust from scratch, however in this recipe I make life easy for the holidays and simply use a store bought frozen pie crust - just make sure to buy the deep dish kind. My secret is that I pinch the machine crimped edge of each pie shell up a bit so that it looks like a homemade pie crust! I traditionally serve this with roasted potatoes and roasted asparagus or a simple mixed green salad with a basic vinaigrette. The recipe makes two quiche - but there are rarely leftovers! Enjoy this with a glass of our rich Merlot and raise a glass to holidays with family and friends!
Ingredients
2 store bought frozen pie shells - deep dish kind
12 ozs applewood smoked bacon - cut into 1/4 in strips
1 5oz box fresh baby spinach
1 cup sliced shitake mushrooms
1 cup sliced shallots
8 eggs
1 1/2 cups heavy cream
8 ozs grated gruyere cheese (about 2 cups)
1 1/4 tsps kosher salt
3/4 tsp fresh ground black pepper
Directions
Makes 2 quiche. Preheat oven to 375.

In a large saute pan over medium heat, add the bacon and cook about 8-10 minutes until the bacon is crisp and has rendered it's fat. Remove the bacon with a slotted spoon and transfer it to a plate lined with paper towels.

Dump the rendered bacon fat from the pan into a bowl, then add 1/3 cup of the bacon fat back into the pan. Over medium heat, add the shallot and the mushrooms and saute about 3 minutes till the mushrooms have browned and the shallots have softened. Add the box of spinach and continue to cook until the spinach has just wilted, about 1-2 minutes. Turn off the heat, then stir in the cooked bacon.
Add half of filling mixture to each pie shell. Sprinkle gruyere into each pie shell, reserving about 1 cup of cheese for later.

In a mixing bowl, add the eggs, cream, salt and pepper. Whisk to combine. Pour half of the egg and cream mixture into each pie shell. With a small spoon or your fingers, stir the mixture in each quiche to mix things around a bit. Finally, top each quiche with the remaining gruyere - about 1/2 cup per quiche.

Put both quiche on a cookie sheet and bake at 375 until the tops are golden brown and puffed, about 35 minutes. Remove from the oven and let stand 5 minutes before serving.