Pinot Noir Braised Short Ribs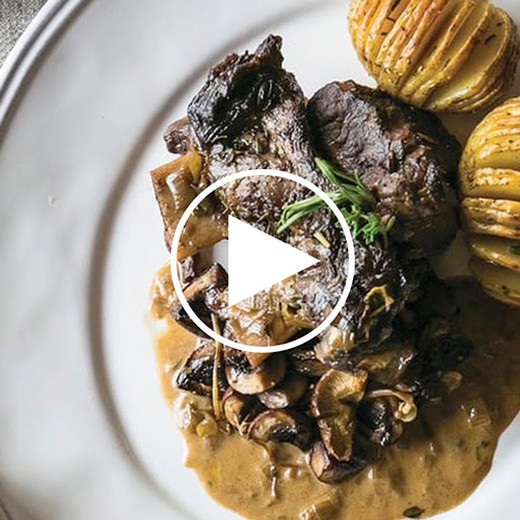 Measurements:
Imperial (US)
Short ribs are a longstanding comfort food for many who appreciate slow cooking, and Patrick has held nothing back with an all out feast of earthy, creamy flavors that satisfy the winter palate. Nestled on a bed of roasted wild mushrooms and finished with a from-scratch cream sauce, these Pinot Noir-infused ribs are worth the time it takes to impress your guests. Cozy up!
Ingredients
3 tbsps olive oil
5 lbs bone in short ribs OR 4 lbs boneless short ribs
2 cups sliced leeks
4 cloves garlic
2 cups Brys Estate Pinot Noir
2 cups beef broth
2 tsps fresh rosemary - chopped, plus more for garnish
2 tsps fresh thyme - chopped
1 tsp dijon mustard
1/2 cup heavy cream
kosher salt
fresh ground black pepper
1 lb assorted wild mushrooms - sliced
Directions
Trim off any excess fat from the short ribs. Salt and pepper both sides. In a large dutch oven over medium high heat, add the olive oil and heat until shimmering. Add the short ribs and sear for 1-2 minutes per side working in batches if necessary. Transfer short ribs to a bowl.
Add the leeks and garlic to the pot and sauté for 3-4 minutes until the leeks have softened. Add the red wine and using a wooden spoon, scrape up any brown bits from the bottom of the pan. Bring the wine to a simmer and cook for 5 minutes or until the wine has reduced by half.
Add the beef broth, rosemary and thyme to the pot. Add the short ribs back to the pot along with any juices from the bowl. Bring to a simmer, then cover and transfer to a 300 degree oven for 2 to 2½ hours or until the meat is tender and falling off the bone.
During the cooking process, on a sheet tray, add the sliced mushrooms then drizzle with olive oil, salt and pepper. Toss to combine.
When the ribs have finished cooking, remove the dutch oven from the oven and increase heat to 425 degrees. Add the sheet tray of mushrooms to the oven and roast for 10-15 minutes or until golden brown.
Meanwhile, transfer ribs to a bowl, and cover with foil. Place the dutch oven on the stove top over medium heat. Cook uncovered for about 5 minutes. Once the liquid has reduced slightly, add the Dijon mustard and cream and continue to cook until the sauce thickens slightly – about 5 more minutes. Taste and add salt and pepper if necessary.
Transfer the ribs back to the pot and coat with the sauce. Remove mushrooms from the oven.
Serve the ribs over a bed of roasted wild mushrooms, drizzle the cream sauce on top and garnish with a fresh sprig of rosemary.