Asparagus Risotto with Sauteed Morels and Cream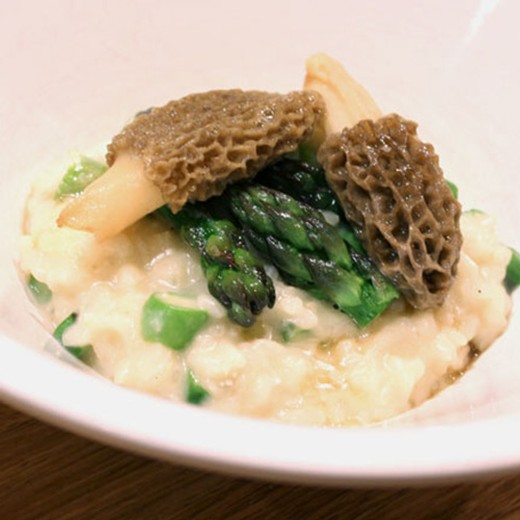 Measurements:
Imperial (US)
Asparagus and Morel mushrooms are in abundance on Old Mission Peninsula this time of year! To celebrate, I created an easy springtime risotto which pairs perfectly with another springtime release - our 2012 Pinot Grigio! If you can't find morels you can certainly use store bought wild mushrooms.  Pour a glass of our 2012 Pinot Grigio and toast to the bounty of spring!
Ingredients
1 bunch Michigan asparagus
2 morel mushrooms per person
5 cups chicken broth
1 1/2 cups Arborio rice
1 cup grated Parmigiano Reggiano
3/4 cup dry white wine (such as our Pinot Grigio)
1/2 cup shallots - diced
2 tsps olive oil
6 tbsps butter - divided
1 tsp kosher salt
1/2 tsp fresh ground black pepper
Directions
Break off the tough end of each asparagus. Cut off the tips of each stalk, and set the tips aside. Cut the stalks crosswise into 1/4 circular slices.

In a small saucepan, bring 5 cups of chicken broth to a simmer over medium-low heat.

In a separate soup pot or dutch oven, heat 2 tbs of olive oil over medium heat. Add 1/2 cup of shallots and saute until the shallots are translucent, about 2-3 minutes. Add the arborio rice and continue to stir for a couple minutes, until the rice starts to crackle and pop. Add 3/4 cup white wine and stir until most of the liquid has absorbed.

At this point ladle in about 3/4 cup chicken broth and adjust the heat so that the pot is at a low boil. Continue to stir the rice as it absorbs the chicken broth. Once the rice has absorbed most of the chicken broth and you can drag your spoon through the rice and still see the bottom of the pan, then add another 3/4 cup chicken broth. Repeat this process, stirring and adding more chicken broth as it absorbs the broth until you have about 1 cup of broth remaining in the saucepan.

(At this point, if you are planning to serve the risotto right away, you can proceed with the recipe below. If however, you are entertaining and making this in advance, you can turn off the heat at this point, move the pot off the heat, cover and let this sit until you are ready to finish the risotto.)

Over medium heat, add the sliced asparagus stalks and the final 1 cup of chicken broth. Stir and bring to a gentle simmer. Continue to stir until most of the chicken broth has been absorbed. Add the Parmigiano Reggiano, 1 tsp salt, 1/2 tsp pepper and 3 tbs of butter. Stir vigorously to combine. Cover and set aside off the heat.

In a small saute pan, add 3 tbs butter, the asparagus tips, the morels or store bought wild mushrooms and a sprinkle of salt. Saute over medium heat for a couple minutes until the asparagus tips are bright green and the mushrooms have softened, about 2-3 minutes.

Serve the risotto in bowls and top with the sauteed asparagus tips and morel mushrooms.

Serves 4-6.