Creamy Kale Caesar with Pumpkin Seeds & Pumpernickel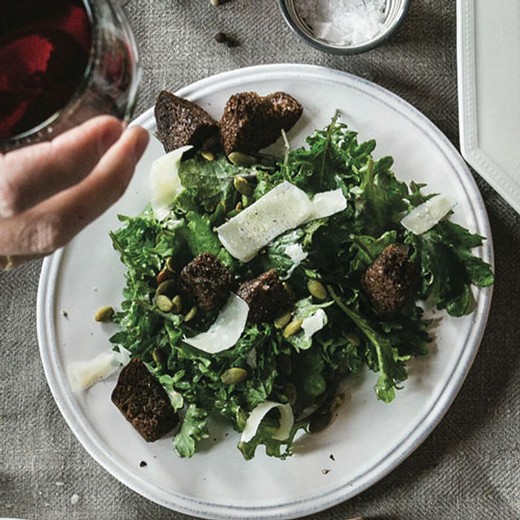 Measurements:
Imperial (US)
Try out Brys Estate's take on a classic salad! This Creamy Caesar dressing layered on a bed of baby kale topped with toasted pumpkin seeds and pumpernickel bread tastes delicious any time of year. Pair with a glass of our Pinot Grigio, or really, whatever you enjoy the most!
Ingredients
3/4 cup mayonaise
1/4 cup fresh grated parmigiano reggiano cheese
2 tbsps fresh squeezed lemon juice
1 clove of garlic - minced
2 tsps Dijon mustard
1/2 tsp anchovy paste
1/2 tsp fresh ground black pepper
1/2 tsp paprika
2 tbsps olive oil
pumpkin seeds
pumpernickel bread
olive oil
kosher salt
fresh ground black pepper
1 box of baby kale
shaved parmigiano reggiano cheese
Directions
In a small mixing bowl, add the mayonnaise, parmigiano reggiano, lemon juice, garlic, Dijon, anchovy paste, pepper and paprika. Whisk to combine. Finally, add olive oil in a thin stream while whisking continuously.
In a medium sauté pan, add the pumpkin seeds and place on a burner over medium heat. Sauté for 4-5 minutes stirring constantly until the pumpkin seeds are lightly toasted but not burnt. Remove from heat and transfer to a bowl to cool.
Cut pumpernickel bread into 1 inch cubes. In a sauté pan over medium heat, add the pumpernickel cubes and drizzle with olive oil. Sauté until the croutons are getting crisp and toasty brown. Season with salt and fresh ground pepper. Remove from heat and let cool.
In a large salad bowl, add the kale, toasted pumpkin seeds, pumpernickel crouton, and shaved parmigiano reggiano cheese. Add a couple spoonfuls of the creamy Caesar dressing and toss to combine. Add more dressing as needed and continue tossing until the salad is well dressed. Season with salt and pepper to taste.