Farfalle with Roasted Chicken, Mushrooms & Winter Pesto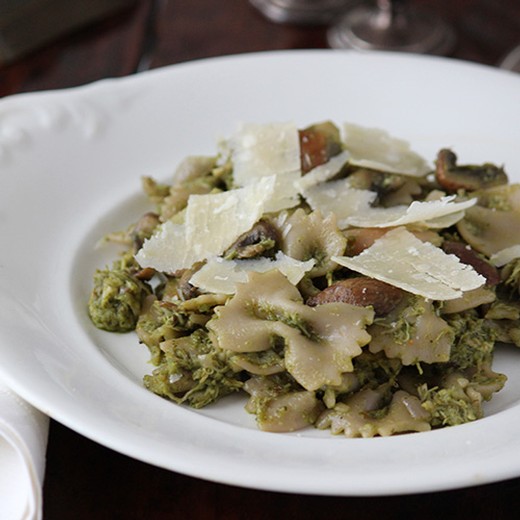 Measurements:
Imperial (US)
Having spent several years of my life living in Houston, I must say that Houstonians are not only some of the friendliest people I have ever met, but also some of the best cooks! This amazingly flavorful pasta dish was inspired by Houston friend and successful gallery owner, Wade Wilson.  Wade would often prepare HUGE bowls of this pasta for friends after his art openings and it was always a hit! Since it is winter and basil (or fresh store bought pesto for that matter) is not in abundance this time of year,  I created an easy winter pesto made from spinach and walnuts that goes perfectly with the earthly mushroom and roasted chicken flavors.  Enjoy this pasta anytime of year with a large glass of our Pinot Noir and raise a toast to friendship!
Ingredients
1 lb Farfalle (Bowtie) pasta
1 store bought rotisserie chicken - deboned and cut into 1 inch pieces
1 8 oz container sliced baby bella mushrooms
1 large yellow onion, diced
2 cloves garlic, minced
1/2 stick butter
1/4 cup olive oil
1/4 tsp cayenne pepper
kosher salt
1 5 oz box pre-washed fresh baby spinach
2 cloves garlic
1 cup olive oil
1/2 cup walnuts, lightly toasted
1 cup grated Parmigiano Reggiano
1 tsp kosher salt
1 tsp fresh ground pepper
Directions
To make the pesto, simply add all of the pesto ingredients listed (starting with spinach) into a food processor and press the button! Couldn't be easier! Process until the pesto has a smooth consistency, about 15-20 seconds. Set aside.

In a large pot over medium heat, add the butter, olive oil, onion, garlic, 1 1/2 tsp salt, and cayenne pepper. Saute until the onions have softened, about 5 minutes. Add the mushrooms and continue to cook until the mushrooms are tender. Add the chopped chicken and 1 1/2 cups of the pesto (see note below - you will have extra pesto). Stir to combine, turn off the heat, and cover to keep warm.

Bring a large pot of salted water to a boil. Add the Farfalle and cook according to the package instructions. When the pasta is ready, reserve 1-2 cups of the pasta water, then drain the pasta and add it to the pot with the onion, chicken, mushrooms & pesto. Stir to combine. Add a splash or two of the pasta water until the sauce is nicely coating all of the noodles. Add additional salt and pepper to taste.

Serve immediately drizzled with olive oil and topped with freshly shaved Parmesan.
Serves 6-8.

NOTE: you will have extra pesto. Use extra pesto on your favorite sandwich, pizza, on top of a grilled piece of fish or chicken, or on top of your favorite omelette. Store any unused pesto with a thin layer of olive oil on top to keep it from oxidizing. Pesto also freezes well!