Garlic Mushroom Chicken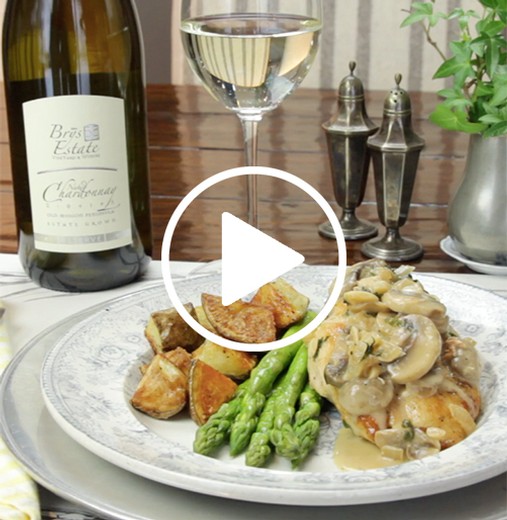 Measurements:
Imperial (US)
Fan favorite Naked Chardonnay makes an appearance in this easy one-pan dish meant to be enjoyed any night of the week. Savor the creaminess of a light mushroom sauce and moist, flavorful chicken perfectly complimented by a glass of our clean and refreshing Naked Chardonnay when you recreate this Garlic Mushroom Chicken recipe at home. This recipe won't keep you beside the stove for too long or demand you spend too much time without your wine glass in your hands - we promise!
Ingredients
2 tbsps olive oil
2 tbsps butter
4 boneless chicken breasts
1/2 yellow onion, diced
8 cloves of garlic, minced
8 ozs white mushrooms, sliced
1 cup Brys Estate Naked Chardonnay
1/2 cup heavy cream
1 cup spinach, diced
salt
black pepper
Directions
In a saute pan, over medium-high heat, add olive oil and butter. Season chicken breasts on each side with salt and pepper. When the butter begins to foam add chicken breasts. Cook 3-5 minutes per side until browned and cooked through. Remove chicken from the pan, and set aside.
In the same saute pan over medium heat add onion and garlic and cook 2-3 minutes until fragrant. Add the white mushrooms and cook 3-4 minutes until mushrooms have cooked down. Add Naked Chardonnay, scraping up any brown bits at the bottom of the pan. Continue to cook and allow the wine to reduce by half.
Add heavy cream, spinach, 1/2 tsp salt and 1/4 tsp pepper. Stir and continue to reduce 3-5 minutes until the sauce has thickened. Add chicken and any accumulated juices back to the pan, turning the chicken breasts to coat with sauce. Remove from heat.
Serve with a glass of Naked Chardonnay and enjoy!
Recipe by Patrick Brys