Grilled Shrimp with Green Goddess & Arugula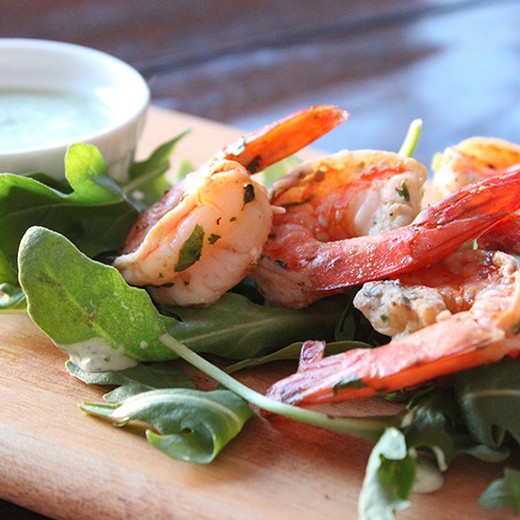 Measurements:
Imperial (US)
After cooking indoors all winter, one of the first things I do when the snow melts is get out the grill and start cooking outside again! Springtime also tends to bring on cravings for fresh green flavors. Because green goddess is one of my favorite salad dressings, (I am certain its making a comeback!) I was inspired to create this light and spring green Grilled Shrimp with Green Goddess & Arugula recipe which can serve as the perfect springtime starter or casual lunch. This recipe makes for easy entertaining as you can make the dressing and grill the shrimp in advance and store them in the refrigerator until you are ready to serve. A perfect pairing with a nice crisp white such as our Naked Chardonnay.  Cheers to spring!
Ingredients
2 lbs peeled and deveined raw jumbo shrimp, leaving the tails on
2 cloves of garlic - minced
juice of 1/2 a lemon
1/4 cup olive oil
1 tbsp fresh cilantro - minced
1 tbsp fresh basil - minced
kosher salt
fresh ground black pepper
Directions
Thaw the shrimp if frozen under cold running water. Add the shrimp to a bowl along with the garlic, lemon juice, olive oil, cilantro, and basil. Add a sprinkling of kosher salt and fresh ground black pepper. Toss to combine and let this sit in the fridge for at least 30 minutes before grilling.
While the shrimp is marinating, add the ingredients listed for the Green Goddess dressing into a small food processor or blender. Pulse to combine until all of the herbs are finely chopped and the dressing takes on a light green color. Store the dressing for up to a week in the fridge.
Green Goddess Dressing Ingredients:
1/2 cup mayonnaise
1/2 cup sour cream
1 tbs fresh squeezed lemon juice
1/2 cup fresh basil - lightly chopped and loosely packed
1/4 cup fresh cilantro - lightly chopped and loosely packed
2 tbs minced fresh chives
1 tbs minced fresh mint
1/2 tsp kosher salt
1/4 tsp fresh ground black pepper
Grill the shrimp over medium-high heat for 2-3 minutes per side until the shrimp have turned pink and have turned white all the way through. The shrimp can be served right off the grill or if you are grilling them in advance, simply store them in the fridge until you are ready to serve.

To serve, place a bed of arugula on each plate, top with a drizzle of green goddess dressing, then top with the grilled shrimp. Serve with a small bowl of extra green goddess dressing for dipping.

Serves 4-6.