Italian Meatloaf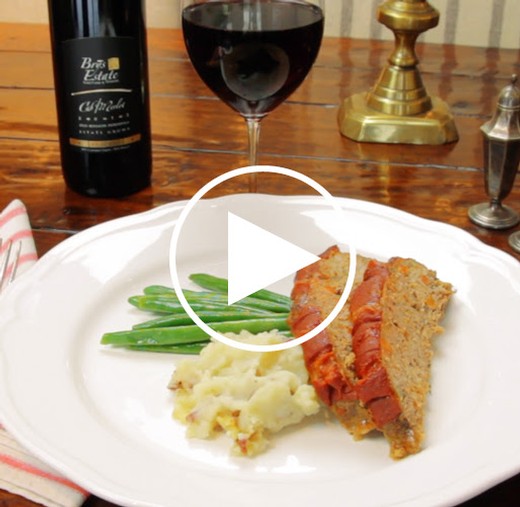 Measurements:
Imperial (US)
Homemade Italian Meatloaf and our Cab/Merlot is a perfect comfort food combination. It all starts with "The Trinity" of Italian cuisine: onion, celery, and carrots. This trio of vegetables is also called a "soffritto." Gently sautéing these ingredients in olive oil provide a flavor base for the other components to build on. The rich and savory tomato topping replaces traditional (and boring) ketchup and the absence of bread crumbs (which absorb fat) makes this dish gluten free and calorie friendly.
Ingredients
1 yellow onion - diced
1 large carrot - diced
2 stalks celery - diced
1 1/2 lbs ground chuck
1/2 lb ground pork
2 eggs
1 tsp fresh thyme
1 6 oz. can tomato paste
2 tbsps apple cider vinegar
1/2 cup water
2 tsps garlic powder
1 tsp onion powder
1/4 tsp dijon mustard
kosher salt
fresh ground pepper
Directions
Preheat oven to 325 degrees.
In a medium sauté pan over medium-high heat, add 2 tbs olive oil. Add diced onion, carrot and celery and sauté till vegetables have softened - about 5 minutes. Set sautéed vegetables aside.
In a small bowl, add tomato paste, apple cider vinegar, water, garlic powder, onion powder, Dijon mustard, 1 tsp of kosher salt, and 1/2 tsp of fresh ground pepper. Mix well using a small whisk or fork. Set tomato topping aside.
In a large mixing bowl, add ground beef, pork, sautéed vegetables, eggs, thyme, 2 tbs of the tomato topping, 1 tsp kosher salt and 1/2 tsp fresh ground pepper. Mix well with your hands then form into a meatloaf in a large baking dish. Spread remaining tomato topping over the top of the meatloaf.
Bake meatloaf at 325 degrees for approximately 1 hour and 15 minutes till the internal temperature reaches 160 degrees. Remove from oven, cover with foil and let rest for 5 minutes before slicing.