Italian Pasta Salad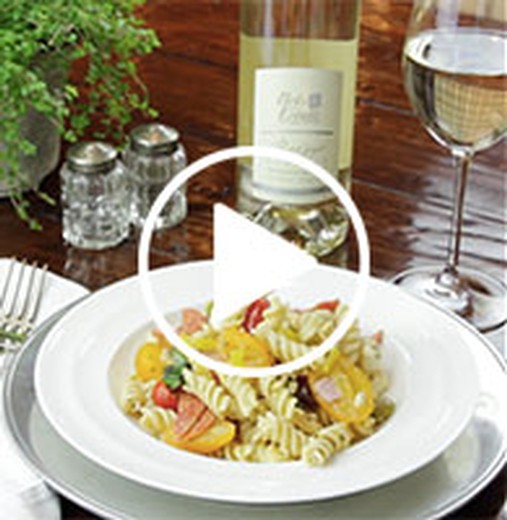 Measurements:
Imperial (US)
Prepare yourself for the perfect (and most addictive) accompaniment to your late summer cookouts! This recipe includes fresh and easy to find ingredients that were selected to enhance the delicious flavors of Eileen Brys' famous Italian dressing – a staple in our family! Serve the salad chilled as a side dish, or it could be a meal all its own. Pair with a glass of crisp, citrusy Brys Estate Pinot Grigio and enjoy. Make this once and I promise you'll be making it again and again! The dressing is my absolute favorite and perfect with many other recipes!
Ingredients
1 lb Pasta Fusilli
2 cups Cherry tomatoes
8 ozs Pearl size mozzarella
1 cup Sliced pepperoni
1 cup Diced ham
1/2 cup Green olives
1/2 cup Kalamata olives
1/4 cup Pepperoncini
1/2 cup Feta cheese
1/2 cup Fresh basil (optional)
1 cup Eileen Brys' Famous Italian Dressing (recipe below)
Directions
Cook pasta fusilli until al dente. Rinse under cold water and add to a large bowl.
Add cherry tomatoes, mozzarella, pepperoni, ham, green and kalamata olives, pepperoncini, feta, and Italian dressing. Toss well. Note: fresh basil is optional and will wilt quickly. Add this right before serving - or simply use as a garnish for individual servings.
Eileen Brys' Famous Italian Dressing Recipe
This dressing has been a staple in the Brys Family since before I was born! Once you start making this you will always have a jar of this in your fridge! It only gets better the longer it sits and it will keep in your refrigerator for months. Use on Italian Pasta Salad, Spinach Salad with Bacon, Egg & Croutons, Mexican Taco Salad, Greek Salad, Chopped Salad, or as a marinade for Grilled Chicken Breasts.
1/2 cup canola oil
1/2 cup light olive oil
1 tbs dried oregano
1 tbs dried basil
1 tbs garlic powder
1/2 tbs dijon mustard
1/2 tbs salt
1 tsp black pepper
1/2 cup apple cider vinegar
NOTE: The recipe calls for 1/2 cup light olive oil (extra virgin olive oil is too strongly flavored). The light olive oil thickens when refigerated, and this adds a nice body to the dressing. If you don't have light olive oil, you can substitute with more canola oil.
Recipe by Patrick Brys