Lentil Soup with Spinach, Chorizo & Bacon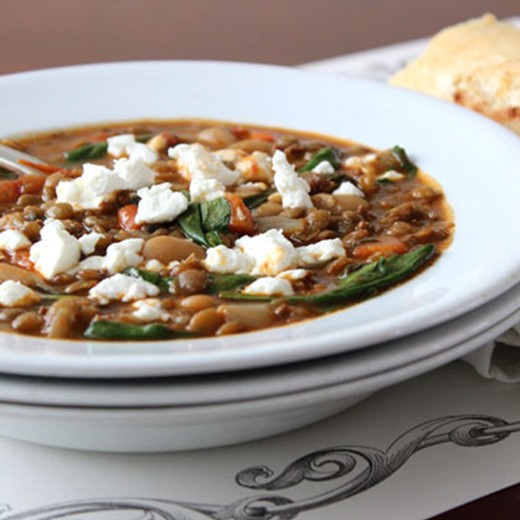 Measurements:
Imperial (US)
In creating a recipe for this year's Winter Warm Up event I wanted to create a soup with a little heat - not only in temperature but in spice as well. What resulted was this mildly spicy yet hearty lentil soup with Mexican chorizo sausage and a touch of bacon. For freshness, I threw in some spinach in the end and let this wilt down just before serving. To add some creamy richness, I serve this soup garnished with crumbled goat cheese. Pair this with a nice glass of our Pinot Noir and warm up this winter!
Ingredients
3 strips thick cut bacon - cut crosswise into 1/4 inch strips
8 ozs uncooked ground chorizo sausage (if buying the chorizo in link form, remove the casing and crumble the sausage)
1 large yellow onion, diced
3 cloves of garlic, minced
3 medium carrots, 1/4 inch diced
1 15 oz can cannellini beans, rinsed and drained
1 15 oz can diced fire roasted tomatoes
1 1/2 cups dried lentils, rinsed and picked over
8 cups chicken stock (Kitchen Basic preferred)
2 tsps kosher salt - to taste
1/2 tsp fresh ground black pepper
6 cups fresh baby spinach
goat cheese for garnish
Directions
In a large soup pot, fry the bacon over medium high heat for about 4 minutes until the bacon begins to crisp up. Add the ground chorizo and saute 3-5 minutes longer until the chorizo is browned. Next add in the chopped onion and carrots. Saute another 5 minutes until the onions begin to soften. Toss in the garlic and saute another 30 seconds or so until the garlic is fragrant.

Add the lentils, cannellini beans, can of tomatoes, and chicken stock to the pot. Bring to a boil, then reduce heat to low, cover and simmer for 45 minutes until the lentils have softened.

Stir in the salt and pepper. The amount of salt will vary depending on the type of chicken stock you use. Add the salt gradually to taste. Before serving, turn off the heat, add the spinach and stir until the spinach has just wilted. Serve the soup in large bowls with crusty bread and top each bowl with crumbled goat cheese.