Mediterranean Chicken In Parchment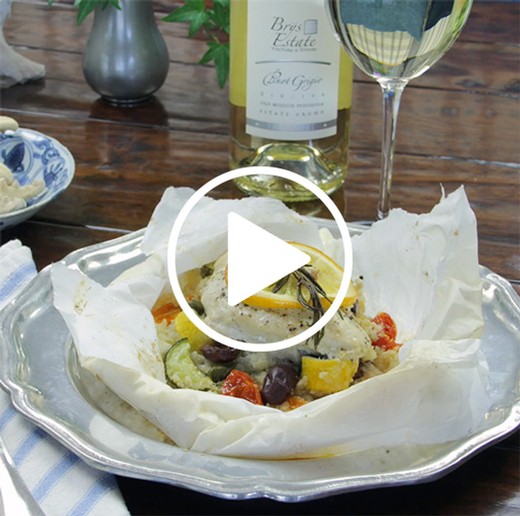 Measurements:
Imperial (US)
Low-cal, gluten-free, and delicious - you'll definitely be enjoying this dish more than once! Mediterranean flavors of lemon, olives, and capers combine with chicken, tomatoes, zucchini & squash to create the perfect summer meal! Easy to make ahead of time, this recipe is great for a relaxing night with guests. Simply combine the ingredients, add a splash of Pinot Grigio, wrap it up, and keep in the fridge until you're ready to bake!
Ingredients
cauliflower florets
zucchini and yellow squash
grape tomatoes
Kalamata olives
capers
chicken breasts
lemon slices
butter
sprigs of fresh rosemary
Brys Estate Pinot Grigio
Directions
Preheat oven to 400 degrees.
Place cauliflower florets in food processor and pulse until it resembles rice.
Slice tomatoes in half and toss with olive oil, salt, and pepper. Slice zucchini and squash in half lengthwise, then slice crosswise in 1/2 inch slices - toss with olive oil, salt, and pepper. Season chicken breasts with salt and pepper on each side.
Lay a rectangular piece of parchment paper (twice as long as it is wide) and fold in half. Open the paper like you're reading a book and add a scoop of cauliflower rice in the center, to the right of the fold. Add as much zucchini, tomatoes, olives, and capers as you wish!
Lay the chicken breast on top, followed by a slice of lemon, a pad of butter, and a rosemary sprig. Drizzle with a splash of Pinot Grigio.
Fold the parchment paper on top of the chicken like you are closing a book. Starting on one side, fold the paper over in a triangle shape and crease. Then keep folding the paper, over and over itself and around the chicken. When you get to the end, tuck the corner under the packet to lock everything in place.
Place on a baking sheet and bake in preheated oven for 30-40 minutes, or until done.
Place a packet on a plate and allow your guests to open it - like a gift! Pour glasses of Pinot Grigio and enjoy!