Moroccan Chicken Tagine with Jeweled Couscous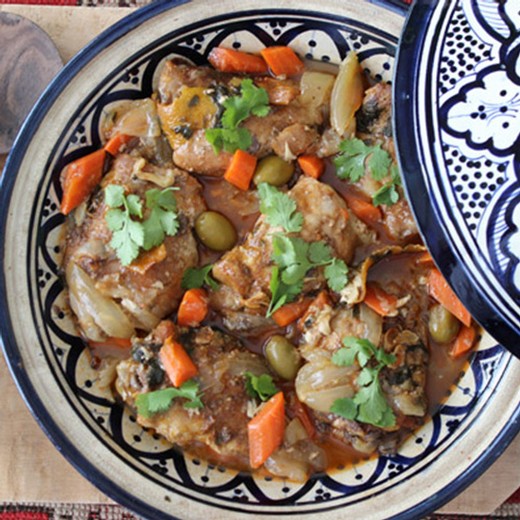 Measurements:
Imperial (US)
Inspired by a recent trip to Morocco, this Chicken Tagine recipe is a perfect one pot winter dish that will wow you with it's warm spice and rich exotic flavors.   Although traditionally made in an earthenware tagine pot, you do not need a clay tagine to make this dish!  A simple dutch oven or oven safe pot works great and makes for easy cleanup!  This dish is also the perfect make ahead dinner, as you can prepare this in the morning, store it in the fridge allowing the flavors to marinate, then 3 hours before dinner simply place it in the oven and turn the oven on.  In 3 hours it is perfectly cooked and ready to serve!  Serve this with Jeweled Couscous and a glass of our award winning Riesling wine and you'll feel like you just landed in Casablanca!
Ingredients
8 chicken thighs - skin removed
3 medium carrots - peeled and cut into 1/2 inch thick half-moons
1 large yellow onion - halved and cut into 1/2 inch slices
6 cloves of garlic - sliced
1 cup Greek green olives with pits
4 strips lemon zest (use a vegetable peeler and peel 4 strips from a lemon careful not to get the white part of the lemon - each strip about 3/4 in by 2-3 inches)
juice of 1/2 a lemon
1 tbsp honey
1 cup chicken broth
1/2 cup cilantro - roughly chopped, plus more for garnish
1 tsp salt
fresh ground black pepper
Directions
In a small bowl mix together the ingredients for the spice marinade. Set aside.
Spice Marinade Ingredients:
2 tbs olive oil
1 1/4 tsp. sweet paprika (not smoked)
1/2 tsp. ground cumin
1/2 tsp. ground ginger
1/4 tsp. cayenne pepper
1/4 tsp. ground coriander
1/4 tsp. ground cinnamon
In a room temperature clay tagine or dutch oven, assemble the tagine. Add half of the carrots and onions. Add the chicken thighs. Brush the spice marinade on the chicken thighs making sure to coat all sides of the chicken. Make sure to use all of the marinade. Add the remaining carrots and onion, garlic slices, olives, lemon zest strips, and cilantro.
Add the chicken broth and lemon juice. Drizzle the honey over the chicken. Sprinkle 1 tsp. salt and 1/2 tsp. fresh ground black pepper over the chicken.

MAKE AHEAD: At this point you can put the lid on the tagine or dutch oven, and store this in your refrigerator up to 8 hours until you are ready to bake this.

Place the tagine or dutch oven in a cold oven and turn the oven on to 325 degrees. Do not preheat oven. Cook for 3 hours until the chicken is falling off the bone.
About 20 minutes before the tagine is done, prepare the Jeweled Couscous.
Couscous Ingredients:
1 1/4 cup fine couscous
1 2/3 cup chicken broth (not stock)
2 tbs. golden raisins
2 tbs. toasted pumpkin seeds
2 tbs. pistachio nuts
1/2 tsp. salt
In a small sauce pan over medium-high heat bring the chicken broth to a boil. Turn off the heat, pour in the couscous and cover with a lid. After 15 minutes, fluff the couscous with a fork and mix in the pumpkin seeds, raisins, and pistachios. Add 1/2 tsp. salt to taste.
In shallow bowls, serve the couscous and 2 chicken thighs per person. Top with sauce from the tagine. Garnish with a few sprigs of fresh cilantro.
Serves 4.