Pepper Crusted Steaks with Black Truffle Butter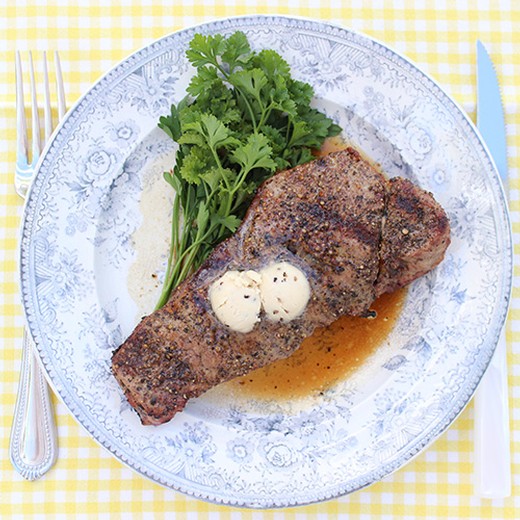 Measurements:
Imperial (US)
Nothing says summertime more to me than firing up some steaks on the grill!  This recipe is my all time favorite way to grill a steak - almost guaranteeing that the steak will be amazingly flavorful and juicy - not dried out and tough! Black Truffle Butter is the key ingredient, and can be found at most specialty food stores (like Burritt's in Traverse City) or online.  It is not cheap either - usually $7 - $10 for a very small container - but it is SO worth it! When the black truffle butter melts around the pepper crusted steaks - you will think you died and went to heaven!  Enjoy this recipe and trust me - as simple as the recipe is, the flavors are anything but simple! Pair this with my Potato Leek Gratin.
Ingredients
Filet Mignon or New York Strip steaks
olive oil
kosher salt
fresh ground black pepper
Black Truffle Butter
Directions
Remove steaks from the refrigerator, drizzle with olive oil and rub the oil in on all sides of the steak. Sprinkle each side of the steak generously with kosher salt. Grind fresh black pepper on each side of the steak until it is nearly covered. Cover steaks and let them sit for 20-30 minutes to come up to room temperature. Grilling the steaks at room temperature will allow them to cook more evenly.

Meanwhile, light grill and set the temperature setting to high heat with the lid closed. Allow the grill to pre-heat.
Once the grill has pre-heated, open grill lid and turn the heat setting down to medium. Place the steaks on the grill and close the lid.

TIP: My secret to super juicy steak is to only touch the steaks 3 times. Once when you place the steaks on the grill, once to flip the steaks, and once to remove the steak. Each time you touch the steak it loses moisture - so resist that urge to keep flipping and forget those cross hatch grill marks!

Depending on the temperature you like your steak cooked and the thickness of your steak, grill the steaks to your liking. A general rule of thumb for thick cut steaks and a grill set to medium heat is to cook it from 4-5 minutes per side for rare, 6-7 minutes a side for medium, and 8-10 minutes for well done.

When the steaks have finished cooking, transfer them to a platter and cover immediately with foil. Allow the steaks to rest for 8-10 minutes so that the juices redistribute back into the meat.

Once the steaks have rested, take the foil off, add a dollop of black truffle butter to the top of each steak, and as you walk to the table the butter will melt on top of the steak creating an over the top amazing sauce.