Potato Leek Gratin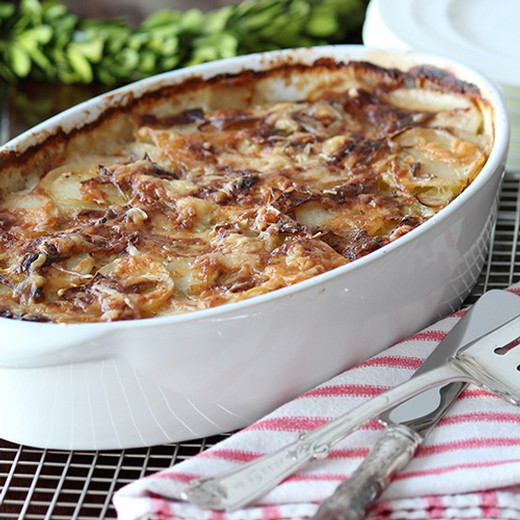 Measurements:
Imperial (US)
One of my favorite soups has always been potato leek soup - so this month I decided to make a holiday gratin out of it! This is a perfect side dish to accompany almost any holiday meal such as a glazed ham, roasted chicken, roasted beef tenderloin or seared fish! Pair this with a rich red wine from Brys Estate - such as our Cabernet Franc and raise a glass to the holidays!
Ingredients
4 lbs russet potatoes - peeled and sliced thin
3 leeks - cleaned (white and pale green parts only) and sliced into 1/4 inch strips (about 4 cups)
8 ozs Gruyere cheese - shredded (about 3 cups)
1 1/2 cups heavy cream
1 tbsp butter
1 tbsp olive oil
2 tsps kosher salt (to taste)
1 tsp fresh ground black pepper
Directions
Preheat oven to 350 degrees.

In a large mixing bowl, add the sliced potatoes, cream, salt, pepper and about 2 1/2 cups of the Gruyere. Mix well, set aside.

In a medium saute pan, add the butter, olive oil and sliced leeks and saute over medium heat till the leeks begin to soften, about 4-5 minutes. Transfer the leeks to the mixing bowl with the potatoes. Mix well.

Butter the inside of your favorite casserole dish. Add the potato mixture to the dish and using a spatula smooth out the top. Sprinkle the remaining 1/2 cup of cheese on top of the gratin and place it in the oven.

Bake for about 1 hour and 15 minutes until the top is golden brown and the potatoes are well cooked. Let set for 15-20 minutes before serving to allow it to firm up a bit before slicing.

NOTE: this gratin can be cooked ahead days in advance and simply reheated at 350 degrees for about 30 minutes.