Roasted Tomato Soup with Baked Grilled Cheese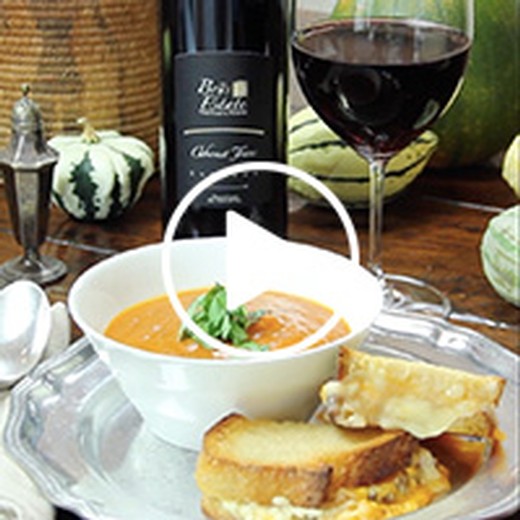 Measurements:
Imperial (US)
Cozy up with this classic combo - grilled cheese and tomato soup! In the cold months here in northern Michigan we rely on fireplaces, wool socks, and soup to keep us warm. I was inspired to create this recipe when we visited friends Jim & Jonathan recently in Maine. They showed me how they slow roast tomatoes in the oven to create amazing depth of flavor. These slow roasted tomatoes became the base for this incredibly rich yet simple soup! Grilled cheese is always difficult to make for more than two people. A preheated baking sheet allows you to make several grilled cheese all at the same time - with the added bonus of being extra crispy crunchy. Soggy grilled cheese no more! The smoky flavors of the tomatoes, sharp taste of the cheddar, crunchy bread and spice on the Cabernet Franc is absolutely delicious. Once you try this, you won't make grilled cheese and tomato soup any other way!
Ingredients
4 lbs Roma tomatoes - halved
2 yellow onions
8 garlic cloves - peeled
4 thyme sprigs - tied together
1/4 cup olive oil
4 cups chicken broth
4 tbsps salted butter
salt
pepper
Directions
Preheat oven to 450 degrees. Place halved roma tomatoes into a roasting pan. Add roughly chopped yellow onions, whole garlic cloves, and thyme bundle. Drizzle olive oil, and salt and pepper (to taste) on top. Roast in oven for 1.5 hours - stirring every 30 minutes to evenly roast tomatoes and prevent charring. Remove from oven and take out the thyme bundle. Scoop mixture into a large soup pot and add chicken broth. Let simmer 30 minutes. Puree the mixture with an immersion blender or blend in batches in a traditional blender. Add butter, 1 tsp salt, and 1/4 tsp pepper (to taste) and mix well. If making grilled cheese also, cover the soup and set aside. If not, you can serve the soup immediately!
Baked Grilled Cheese
Sourdough bread
Salted butter
Cheese of your choice! (I used sharp white and sharp yellow cheddar)
Place a large sheet tray in a preheated 450 degree oven for 5 minutes. Butter the bread and place your cheese! Remove the hot tray from the oven and place the sandwiches onto the tray. Bake the sandwiches for 10-15 minutes until the bread is golden and the cheese is bubbling. Remove, serve, and dunk into that delicious tomato soup!