Spinach & Artichoke Dip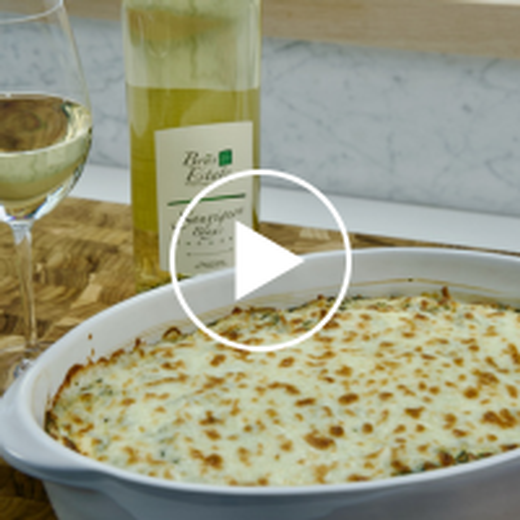 Measurements:
Imperial (US)
Perfectly creamy and brimming with spinach and artichokes, this Spinach & Artichoke dip made with a splash of Sauvignon Blanc is the ultimate party appetizer! Just mix, bake, and top with lots of yummy cheese.
Ingredients
10 ozs package frozen chopped spinach
15 ozs marinated artichoke hearts, drained
3 cloves minced garlic
1 cup shredded mozzarella cheese, plus more for topping
1/4 cup parmesan cheese
8 ozs cream cheese, cut into 1-inch cubes
1 cup sour cream
1/2 cup mayonnaise
2 tbsps Brys Estate Sauvignon Blanc
1/2 tsp kosher salt
1/4 tsp pepper
Blue corn tortilla chips and/or pita chips
Directions
Thaw spinach in the refrigerator overnight, or in the microwave in 1-minute bursts until defrosted. Drain well using a strainer or squeeze with your hands.
In a large bowl, mix all ingredients well. Transfer the mixture to a small oven-safe baking dish. (At this point the dip can be refrigerated for up to 24 hours until ready to bake and serve.)
Preheat oven to 375 degrees. Bake the dip uncovered for 30 minutes.

Remove the dip from the oven and add a thin layer of mozzarella cheese on top. Put dip back in the oven and broil until the cheese has melted and is starting to brown.

Serve immediately with blue corn tortilla chips and/or pita chips.
Click here for more Patrick's Pairings recipes.