Texas Chicken Fajitas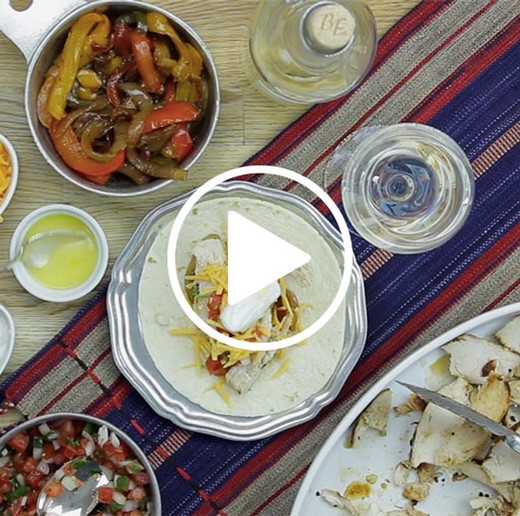 Measurements:
Imperial (US)
If you thought you liked fajitas before...wait until you try my fajitas with Texas Butter Sauce! In Texas - it's all about the sauce! Inspired by one of my favorite Tex-Mex restaurants in Houston, this recipe packs a punch with its bold flavors, yet truly simple preparation! Fresh garlic and lemon combine with the smoky grill flavors of the chicken and cumin to create mouthwatering fajitas that are drizzled with a garlic wine butter sauce. Serve these with a cold glass of our Riesling/Gris and raise a glass to Texas! -Patrick Brys
Ingredients
4 garlic cloves
4 boneless, skinless chicken breasts
1 1/2 tsps cumin
2 tbsps olive oil
1/4 cup lemon juice
yellow onion
peppers, assorted color
kosher salt
fresh ground pepper
6 inch flour tortillas
sour cream
shredded cheddar cheese
Directions
Peel garlic cloves, mince, then mash with 1 tsp kosher salt on a cutting board. Set aside. Place chicken breasts in a large ZipLoc bag and add in the cumin, olive oil, lemon juice, and crushed garlic/salt mixture. Seal the bag and mix well. Marinate for 1 hour to overnight.
Slice onion and peppers and add to a warm skillet. Drizzle with olive oil, salt, and pepper, and sauté to your liking.
After marinating, grill the chicken for 5-7 minutes per side over medium heat until done. Cover and let rest for 5 minutes.
Warm your tortillas by wrapping in foil and placing in a 200-degree oven for 5-10 minutes until warmed through.
Slice the chicken into half inch strips. Lightly drizzle with a few spoonfuls of the Texas Butter Sauce (recipe below) over the chicken. Cover and keep warm in a 200-degree oven.
When ready to serve, toss down your flour tortilla and build your fajita beginning with chicken, onion and peppers. Add additional toppings like cheddar cheese, sour cream, fresh pico de gallo, and drizzle more Texas Butter Sauce over the fajita. Pour a glass of Brys Estate Riesling/Gris and enjoy!
Texas Butter Sauce
1 stick UNSALTED butter, cubed (make sure to use unsalted butter - otherwise your sauce will be too salty)
1/2 tsp chicken bouillon seasoning
1/4 tsp garlic powder
2 tbs. Brys Estate Riesling/Gris

Microwave for 90 seconds, then stir. Be sure to drizzle sauce over the grilled chicken after it is sliced, and of course, add to the top of the fajitas before enjoying.