Wine Country Cheeseburgers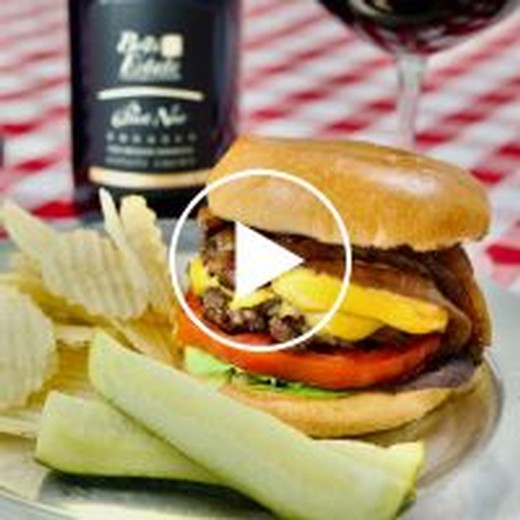 Measurements:
Imperial (US)
Looking for a new twist for your next cookout? Try out our Wine Country Cheeseburgers which pair perfectly with our estate grown Pinot Noir! These incredibly delicious double cheeseburgers start with a buttery brioche bun and are topped with sautéed Pinot Noir onions, a tangy burger sauce and melted velveeta cheese. Don't judge! Velveeta melts amazingly well and offers a creaminess that is simply luxurious - we promise you won't regret it. Enjoy with a glass of our Pinot Noir Reserve and raise a toast to fine summer living!
Ingredients
ground beef chuck (about 1/3 - 1/2 lb per person)
1/2 cup mayonaise
2 tbsps yellow onion, diced
2 tbsps ketchup
2 tbsps sweet relish
sliced yellow onion
olive oil
splash of Pinot Noir wine
Velveeta cheese
lettuce
sliced tomato
brioche buns
kosher salt
ground black pepper
Directions
Burgers
Form ground beef into a ball 1/3lb to 1/2lb ball. Split the ball in half and create 2 thin patties. Season with salt and pepper on both sides.
Over medium heat, grill burgers for 2-3 minutes then flip.

Add a slice of Velveeta cheese to each patty, then grill for an additional 1-2 minutes - or to your desired temperature.
Burger Sauce
1/2 cup mayonnaise
2 tbs yellow onion, minced
2 tbs ketchup
2 tbs sweet pickle relish
1/4 tsp kosher salt

Combine ingredients and mix well.
Pinot Noir Onions
sliced yellow onion
olive oil
kosher salt
pepper
splash of Pinot Noir
Sauté onions with olive oil, salt, and pepper over medium-high heat until brown and blackening in some spots.
Add a generous splash of Pinot Noir and cook until the wine has fully evaporated.
Assembly
Toast brioche buns, then add burger sauce to the top and bottom bun. To assemble, start with the bottom bun, then add lettuce and tomato. Next, stack 2 burger patties and top with the Pinot Noir onions. Finish with the top bun.