Rosemary Hasselback Potatoes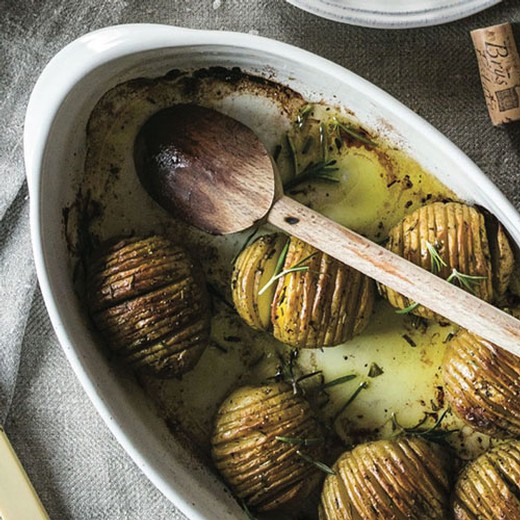 Measurements:
Imperial (US)
Chalk up these Rosemary Hasselback Potatoes as both aesthetically pleasing AND delicious! We believe it's the perfect addition to your meal with Pinot Noir Braised Short Ribs, but we're sure you'll want to make these over and over again with other main dishes! Pour a glass of our Pinot Noir and enjoy.
Ingredients
yukon gold potatoes
olive oil
chopped fresh rosemary
kosher salt
fresh ground black pepper
Directions
Cut a thin slice off the bottom of each potato. This will keep it from rolling. Then cut each potato crosswise into 1/8 inch slices, cutting only about ¾ of the way through – leaving the potato intact.
In a small bowl add some olive oil, rosemary, salt and pepper. Dip each potato into the bowl, working the mixture in between the slices of each potato. Place the seasoned potatoes on a sheet tray with the sliced side facing up. Sprinkle with additional rosemary, salt and pepper. Bake for about 30-40 minutes or until the potatoes are golden brown.