Spring Chicken in Parchment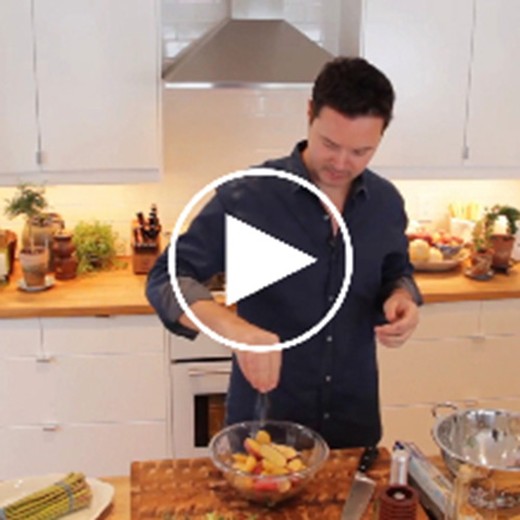 Measurements:
Imperial (US)
It's been a long winter, but finally Spring is here! This light, healthy and refreshing springtime dish takes the boring chicken breast and combines it with the bright spring flavors of asparagus, lemon and thyme. Add a splash of Pinot Grigio, wrap it up and it is a present you can serve your guests! Enjoy with a glass of Brys Estate Pinot Grigio and raise a toast to Spring!
Ingredients
parchment paper
4 chicken breasts
1 bunch asparagus (thicker is better for this recipe)
1 1/2 lbs bag fingerling potatoes
2 lemons
fresh thyme sprigs
2 tbsps butter
olive oil
kosher salt
fresh ground black pepper
Brys Estate Pinot Grigio
Directions
Get prepared!
Preheat oven to 400 degrees. Rip 4 sheets of parchment paper each approximately 2 feet long. Fold each in half crosswise.
Wash fingerling potatoes then cut in half lengthwise. In a bowl, toss with olive oil, salt & pepper. Set aside. Wash asparagus. Cut off or break off the woody ends. In another bowl, toss asparagus with olive oil, salt & pepper. Set aside. Cut the ends of each lemon, then cut each lemon into six 1/4in slices. You should have a total of 12 lemon slices. Set aside.
Wash chicken and pat dry. Season both sides with salt and pepper.
Assembly time!
Take 1 sheet of parchment paper and open it up so it looks like you are reading a book. On one side of the crease in the middle of the paper, place 6-8 fingerling potato slices with the cut side facing up. This will become the bed for the other layers. Next layer on some asparagus; 8-10 pieces or whatever looks good. Next place a chicken breast on top of the asparagus. Top each chicken breast with 3 slices of lemon, 2 sprigs of thyme, and 1/2 tbs of butter. Add a splash of Pinot Grigio on top of the chicken.
Fold the parchment paper on top of the chicken like you are closing a book. Starting on one side, fold the paper over in a triangle shape and crease. Then keep folding the paper, over and over itself and around the chicken. When you get to the end, tuck the corner under the packet to lock everything in place. Repeat steps above for the other 3 packets.
Once your chicken presents are wrapped, place all 4 on a sheet tray and bake in the oven for 30-40 minutes until the internal temperature of the chicken registers 165 with an instant read thermometer.
Place one packet on each plate and let your guests unwrap their presents! Serve with a generous glass of Brys Estate Pinot Grigio and raise a glass to Spring!
Note: after opening packets, the lemon slices and thyme sprigs can be placed on the side and are not intended for consumption