Roasted Chicken Pot Pie with Tarragon & Wild Mushrooms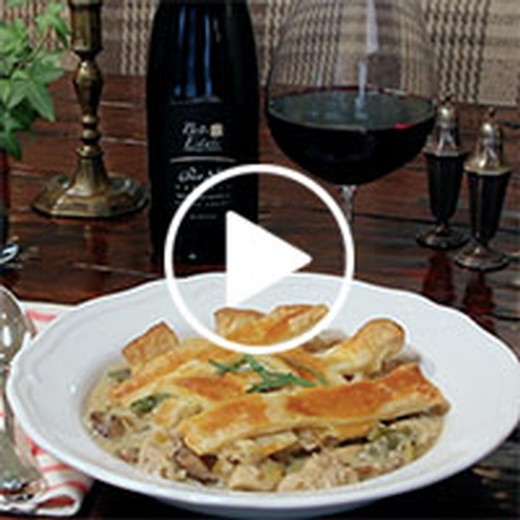 Measurements:
Imperial (US)
Chicken Pot Pie must be the nearly perfect winter food.  Rich, hearty and comforting.  Instead of traditional boiled chicken, peas, carrots, and celery... I chose winter flavors such as roast chicken, wild mushrooms, french green beans and tarragon.  What resulted is a super easy, hearty pot pie that pairs perfectly with a nice winter red such as our Pinot Noir. 
Ingredients
1 store bought rotisserie chicken - deboned and cut into 1 inch cubes
16 ozs wild mushrooms - roughly cut into bite sized pieces
2 medium leeks, thoroughly washed and cut into 1/2 inch slices (about 2 cups)
2 cups French green beans - cut into 1 inch pieces
5 cups chicken stock
1/2 cup heavy cream
1/2 cup flour
1 tbsp fresh tarragon - minced and packed
2 tbsps olive oil
2 tbsps butter
1 1/2 tsps salt
1/2 tsp pepper
1 tsp Dijon mustard
1 package of puff pastry sheets
1 egg
Directions
Preheat oven to 400 degrees.
Add the butter and olive oil to a large soup pot and place over medium heat. Add the sliced leeks and saute for a couple minutes until the leeks have softened, about 2-3 minutes. Add the mushrooms and continue to cook for 5-6 minutes until the mushrooms have browned and softened.

Add 4 cups of the chicken stock, the chicken, cream, salt, pepper, mustard, and tarragon to the pot.

In a small bowl, add the remaining 1 cup of chicken stock then whisk in the 1/2 cup of flour. Mix well dissolving any lumps. Stir the flour/stock mixture into the pot. Stir well to combine.

Bring the mixture to a boil then reduce the heat to low and simmer uncovered for 15 minutes until slightly thickened. Stir in the green beans. Remove from heat and transfer chicken pot pie mix to a baking dish.

Cut puff pastry into 1 inch strips. Weave a lattice pattern over the filling with the pastry strips. Trim any excess pastry from the edge of the baking dish. For a brown top, brush with an egg wash (1 egg whisked with 1 tbs. water) before baking.
Bake at 400 degrees for 30-35 minutes until the puff pastry is nicely browned.
Makes 6 - 1 1/2 cup servings.
ALTERNATE SERVING SUGGESTION: If you don't want to fuss with creating the puff pastry topping, after adding the green beans, simmer 5 minutes, then ladle the filling into bowls and serve with your favorite crusty bread or store bought biscuits.