Wine Country Cheese & Charcuterie Board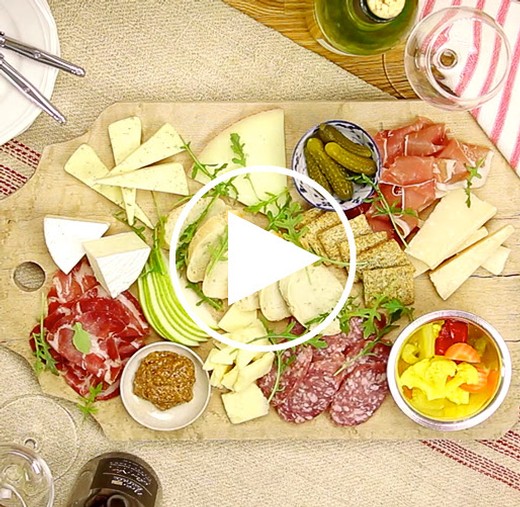 Measurements:
Imperial (US)
At Brys Estate, we offer cheese and charcuterie boards to enjoy in our cozy wine lounge or on our beautiful Upper Deck overlooking the vineyard. Composed of artisan cheeses, cured meats, pickled vegetables, bread, and stone ground mustard, these boards make the perfect accessory to a glass of wine and a vineyard view! Want to re-live your wine country experience at home? Looking to create a unique appetizer spread for your next dinner party or wine tasting party? Now you can with these simple tips on what it takes to make the perfect wine country cheese and charcuterie board!
Ingredients
Charcuterie: Salami, Prosciutto, Coppa, Speck, Chorizo, Pâté, Foie Gras
Cheeses: White Cheddar, Parmigiano Reggiano, Fontina, Irish Dubliner, Havarti, Manchego, Brie, Goat Cheese
Pickled Things: Cornichons, Giardiniera, Pickled Onion, Kalamata Olives, Castelvetrano Olives, Cracked Greek Olives, Pickled Asparagus, Pickled Brussels Sprouts
Fruit: Sliced Pear, Sliced Apple
Spreads: Whole Grain Mustard, Peach or Pear Chutney, Lavender Honey
Breads/Crackers: Focaccia, Olive Bread, French Bread, Water Crackers, Flavored Triscuits, Thinly Sliced Pumpernickel
Nuts: Cashews, Almonds, Pistachio
Directions
- What is "charcuterie"? Charcuterie (shar-cu-tah-ree) is the art of making sausages and other cured, smoked and preserved meats. In addition to sausages, classic charcuterie items include pâté, terrines, galantines, and confit.

- Types of Boards & Cheese Knives: I prefer a well used wooden board, and I picked mine up at an antique mall for $19. You can also use slate or ceramic platters. For a cheese knife I would recommend ones that have a fork tip at the end of the knife - this way you can use the fork tip to pick up items on the board. You can also cut a piece of kraft or parchment paper to fit the shape of your board. The paper serves as a liner for easy clean up and also allows you to write the names of the items on the board in pencil so your guests can easily see what each item is.

- Number of Items: the number of items you choose is largely dependent on the number of people you have. A general rule of thumb for an appetizer sized portion is 3 items for 1-2 people, 5 items for 3-4 people, and 8-10 items for 6-8 people.

- Item Types: a well rounded board will have an assortment of cheeses, meats, and pickled vegetables. I usually choose at least one item from each category. So for a 3 item board I will have a cheese, a meat and a pickled item. In addition, every board should have bread or crackers (or both) and a spread of some sort. See item suggestions below.

- Wine Pairing Suggestions: the items you select for your board will determine which wines pair best. Sharp cheeses such as white cheddar go well with sweeter style wines or crisp whites, creamy cheeses such as Fontina go well with Pinot Noir, salty or crumbly cheeses such as Parmigiano Reggiano go well with red wines. Cured meats typically pair best with red wines. Experiment and taste - it's part of the fun!