Winter's Eve Gnocchi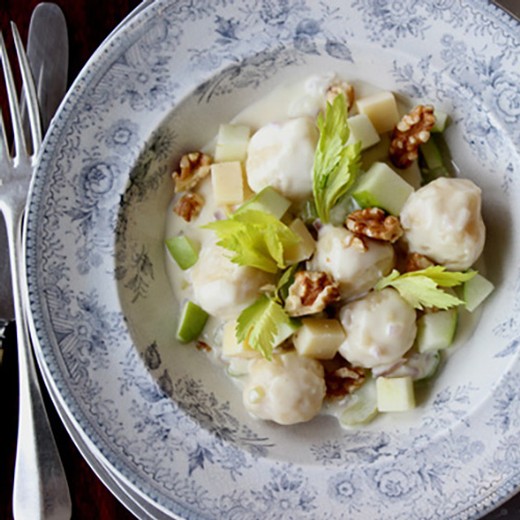 Measurements:
Imperial (US)
This is my go to winter comfort dish.  Soft pillows of gnocchi tossed with a rich cream sauce, refreshing bites of apple and celery, toasted walnuts, and little morsels of sharp cheddar combine to form a super simple yet elegant meal worthy of any dinner party.  This is a 5 star dish in 5 minutes!  Pair this with a glass of our Sauvignon Blanc or Pinot Blanc and enjoy the perfect winter's night.
Ingredients
1 16 oz package of potato gnocchi
1 cup heavy cream
1/2 cup chicken broth
1/2 cup grated Parmigiano Reggiano cheese
1/2 cup celery - sliced thin
1/4 cup shallot - minced
2 tbsps butter
1/2 tsp kosher salt
1/4 tsp fresh ground black pepper
green apple - 1/2 inch dice
extra sharp white cheddar cheese - cut into 1/2 inch cubes
toasted walnuts
fresh celery leaves
Directions
Bring a large pot of salted water to a boil over high heat.
Get organized! Chop up the shallot, celery, green apple and sharp cheddar cheese. In a small pan over medium heat, toast the walnuts until they are lightly browned and fragrant. Grate the parmigiano reggiano cheese.

From this point the meal takes only minutes to prepare...

In a large saucepan over medium heat, melt the butter. Add shallots and celery and saute till the shallot is soft and translucent - about 2-3 minutes. Add the cream, chicken broth and grated parmigiano reggiano cheese. Add 1/2 tsp salt and 1/4 tsp pepper. Stir. Simmer for 2-3 minutes until the sauce has thickened slightly. Remove from heat.

Meanwhile, add gnocchi to boiling water and cook according to package instructions. (Usually 3-4 minutes until the gnocchi float to the top). When done, drain the water and transfer the gnocchi to the sauce pan. Stir to coat. If this sauce becomes too thick - add a splash of chicken broth to thin things out to your desired consistency.

Serve the gnocchi in 4 bowls, garnish with diced apple, cubed extra sharp white cheddar, toasted walnuts, and fresh celery leaves.

Enjoy!