Venison Loin with Parsnip Puree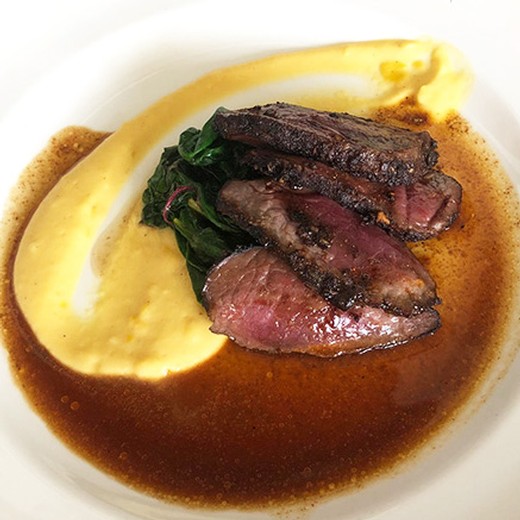 Recipe Date:
October 27, 2021
Measurements:
Imperial (US)
In partnership with the Michigan DNR and their Hunting and Wild Game Cuisine project, Brys Estate vintner and avid hunter, Coenraad Stassen and The Riverside Inn share a recipe for Venison Loin with Parsnip Puree.
Ingredients
2 lbs venison loin or backstrap
butter (smoked butter is amazing!)
cooking oil
2 lbs parsnips, pureed
4 cloves garlic, peeled
1/2 cup heavy whipping cream
1/2 cup milk
2 tbsps unsalted butter
salt
pepper
Directions
Method for Parsnip
Can be done ahead and reheated.
Heat over to 400 degrees. Wrap garlic in foil and spray a bit of olive oil. Roast in the oven for about 15 minutes until nice and golden.
Cut parsnips into 2" pieces and simmer, covered, in the cream and milk until tender – about 10-15 minutes. Add a few pinches of salt & pepper.
Remove lid and reduce the milk mixture by about ½. Add the roasted garlic and puree with an immersion blender, or in your blender – be careful with hot liquids in your blender!
Method for Venison
Best done with a cast iron or any heavy-bottomed pan that can go from stovetop to oven.
Remove Venison from the refrigerator, and place on a plate. Pat down until completely dry.
Generously sprinkle salt and pepper on all sides – let venison come to room temp.
Pre-heat oven to 450 degrees.
Set pan on the stovetop and preheat – you want this HOT. Add 2 tbsp cooking oil. Once ready, sear the venison on all sides. Let it sit in the pan undisturbed for 2 minutes per side. If the meat is sticking, it probably isn't ready to be flipped. You may need to add a bit more oil.
Once seared on all sides, add a generous spoonful of butter – 3-4 tablespoons, and place the pan in the oven. Cook for about 7-10 minutes, checking the internal temp midway. We like our venison at medium-rare, or 135. I would not recommend past 145, as it will dry out.
Once cooked to your temperature, place on a cutting board, and pour the butter from the pan over the meat. Let rest for 10 minutes before serving.
Serve with parsnip puree. Sauces that go well are demi-glace, sautéed mushrooms, blackberry compote.
Pour a glass of rich red wine - Brys Estate Merlot or Cabernet Franc.