Venison Stew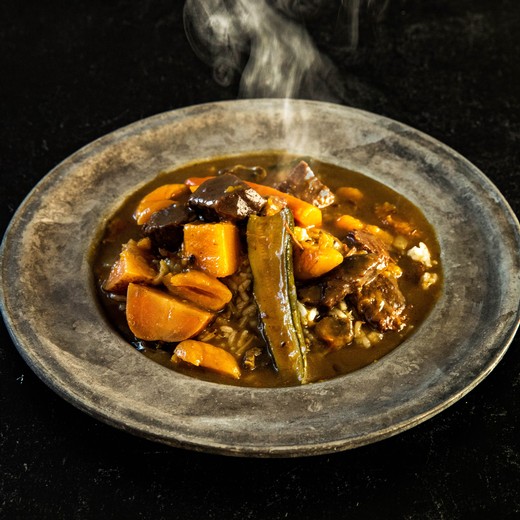 Recipe Date:
October 26, 2021
Measurements:
Imperial (US)
In partnership with the Michigan DNR and their Hunting and Wild Game Cuisine project, Brys Estate vintner and avid hunter, Coenraad Stassen shares his recipe for Venison Stew. Also, check out The Riverside Inn's Venison Loin with Parsnip Puree here.
Ingredients
3 lbs venison stew meat cut into 1.5
1/2 bottle of Brys Estate Merlot, or another rice red wine (375 ml)
4 cups apple juice
2 cups olive oil
1 cup all-purpose flour
1/4 cup worcestershire sauce
2 tsps salt
2 tsps pepper
1 tsp allspice
1 tsp paprika
2 tsps ground coriander
1 tsp ground cloves
2 tbsps curry powder
1 tsp ground nutmeg
2 tbsps brown sugar
3 medium yellow onions, thinly sliced
1 green pepper, diced
1 lb bacon, chopped
16 ozs mushrooms
1 medium butternut squash, cubed into 1" pieces
8 medium red skin potatoes, quartered
6 carrots, peeled and sliced in half lengthwise
2 medium green zucchinis, sliced in half, then sliced in half lengthwise
20 dried apricots, halved
chopped parsley for garnish
Directions
Add olive oil to the pot and heat. Add bacon, onions, mushrooms, and green pepper and sauté until tender & onion is translucent. Remove from stew pot and set aside.
Coat venison in flour. Add to pot and sear on all sides. Once browned, add apple juice, red wine, Worcestershire sauce, and spice mixture. Make sure all the meat is covered by liquid. Slowly simmer, covered, for 90 minutes, or until tender. Add water or beef stock if needed to make sure the meat is covered in liquid.
Once the meat is tender, add butternut, potatoes, and carrots. Simmer for 40 minutes or until vegetables are tender.
Add zucchini and simmer for 15-20 minutes, or until tender
Add the bacon, onion, pepper & mushroom mixture with the dried apricots and simmer for a few minutes to incorporate all the flavors. Stir well.
Recipe for Venison Loin with Parsnip Puree